112
LG Electronics is very active at the beginning of 2018: DeepThinQ enters in all the business divisions of the group, while at CES 2018 a large curved OLED installation has been presented.
DeepThinQ 1.0, the Deep Learning proprietary platform, was developed last year at the same time as the creation of the LG artificial intelligence laboratory in Korea, with the aim of accelerating research in the AI field. The platform allows the integration of artificial intelligence into a wide range of products, allowing LG's developers to implement deep-learning technologies in future products as well. In line with the open strategy of its ThinQ artificial intelligence brand, LG products developed with DeepThinQ, from mobile devices to home appliances, will offer an ever-wrapping user experience. DeepThinQ 1.0 integrates features such as speech recognition, video with sensors for space detection, detectors of the human body, and supports the most important technological platforms such as Android, Linux and webOS. The products developed through DeepThinQ platform are designed to "learn independently", drawing information from the cloud server. This learning function is the heart of DeepThinQ and allows products with LG's artificial intelligence to understand not only the nature of the environment but also the behavioral model of their users.
As an example, the LG ThinQ air conditioner learns user behavior patterns over time and automatically refreshes rooms based on their preferred temperatures. ThinQ should be able, in the future, to automatically adjust the music, light or climate inside the car by studying the habits of the passengers.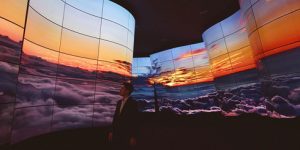 But if we went into the future with DeepThinQ 1.0, let's take a step back into the present, with LG OLED Canyon: this installation was built at CES 2018 with various LG's business displays. The "canyon" is a single large curved display measuring approximately 27 meters long and composed of 246 LG OLED Open Frame display units arranged in a concave and convex configuration, which offered visitors a very interesting viewing experience. To make possible the installation, in particular, was the Open Frame OLED Signage 55F5C series, which allows you to fold and flex the displays.


The OLED technology also allows you to completely turn on or off every single pixel. In this sense, LG OLED displays give new life to colors, creating an optimized contrast for highly dynamic content. The possibilities of digital signage, with similar visualization and installation features, are easily imaginable: maximum personalization and flexibility, and "artistic" options for display layout.
www.lg.com
This post is also available in: Italian
More from References
---
9
Occupancy Management Solution (OMS) is the newTripleplay and ONELAN proposal for the management of spaces in companies, schools, universities and …