102
The Spanish manufacturer LDA Audio Tech has been developing high quality public address and voice alarm solutions for over 35 years. The company's latest NEO Series is a certified EN 54-16 (2426-CPR-105) system, with an extensive feature set.
The Music Inside Rimini (MIR) was the showcase for the new, compact and functional NEO system by LDA Audio Tech, designed for intuitive web-based remote control. Using SIME software, a single user can control and monitor several NEO systems over a network.
The NEO central unit is compact, built into a 2U rack-mount chassis. This unit incorporates eight amplifier channels, configurable as 8 x 120 W or as 4 x 250 W on 100 V constant voltage lines. A 40 x 1024 audio matrix allows simultaneous and independent routing of any of audio inputs to any of the zones, while a built-in, dual message player with a 4 GB memory can store a large number of voice messages and play back, manually or automatically, two different messages simultaneously in different zones. Eight balanced analog audio inputs with preamps are available on the unit, while an additional 32 channels of audio I/O are available using Cobranet (48 kHz/24 bit) through three Ethernet ports. These Ethernet ports also permit remote control and supervision, integration with other equipment using UDP commands, and redundant connections to NEO Extension units, by direct connection using Cat5a cable or in a distributed network using standard Ethernet switches.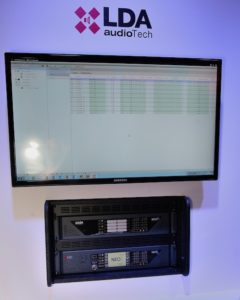 A second dedicated RS-485 interface is available for connection to fire detection panels, as is a contact closure interface for fire detection with 12 supervised inputs per zone. An ACSI bus interface allows the connection of up to eight remote MPS-8Z microphones or proprietary VAP-1 VA Panels.
Line monitoring functions can detect open circuit or short-circuit faults in each amplification line and optionally, it can use amplifier channel no. 8 as back-up for the other channels. The user interface on the unit includes a 4,3" color touch screen, a supervised emergency PPT microphone, and a speaker for monitoring any of the inputs or zone outputs. The unit also includes a back-up power supply connection with an EN54-4 battery charger.
Three different zone-amplifier extension units are available: NEO-Extension 8250 (8 x 250 W), 4250 (4 x 250 W), and 4500 (4 x 500 W).
lda-audiotech.com
This post is also available in: Italian
More from References
---
9
Important news from the German d&b audiotechnik brand, which enriches its loudspeaker systems family with the new 44S: high performance …