113
Train stations are usually functional transport hubs that don't offer much in terms of attractions and sociability. However, Amsterdam Central Station stands out and offers an interesting attraction: Lil' Amsterdam, an area dedicated to shopping and gastronomy
Amsterdam Central Station, inaugurated at the end of the 19th century, is the second largest railway station in Holland, and recently expanded its offer of entertainment and attention to travelers, with Lil' Amsterdam, a space dedicated to shopping and gastronomy. For the sound system of this space, which is located on the lower level of the station, various LD Systems products, a well-known brand of professional audio distributed by Adam Hall Group, were chosen.
"Contemporary culture for public spaces" is how the creators of Lil' Amsterdam describe their concept. Inside there are stores for clothing and art, bars and restaurants as well as Lil' Club – a mix of café, lounge, work space and club that has tables, armchairs and sofas spread around the space.
Maarten Stapper, from DJ-verkoop, installed sound systems, radio systems and DSP-controlled signal processing from LD Systems here and in the shopping areas to enable different application scenarios that include background music, product presentations and live or club events. Active Stinger systems, consisting of STINGER 15 A G3 2-way bass reflex PA speakers and STINGER SUB 18 A G3 18″ subwoofers, ensure powerful and clean sound in Lil' Club. To ensure uniform distribution in the complex layout, Maarten Stapper also installed additional CURV 500 Duplex satellites as a delay at strategically important points.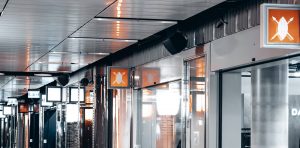 Lil' Amsterdam relies on the U500 wireless series for readings, presentations and other voice-based applications. Depending on the application, a dual receiver with two handheld microphones (U500 HHD 2) or a dual receiver with two bodypacks and headsets (U500 BPH 2) are used. The shopping passages and the individual stores are covered by LD Systems SAT 82 installation speakers powered by CURV 500 iAMP 4-channel amplifiers.
In short, taking a train at Amsterdam Central Station becomes a more than interesting experience!
www.adamhall.com
www.ld-systems.com/it
This post is also available in: Italian