Since their launch on the market in 2020, LD Systems' ICOA series full-range coaxial speakers have met with the appreciation of musicians, bands and DJs. With the addition of DSP presets for the 12" and 15" ICOA passive versions for the 44/45 K DSP power amplifiers, these multi-application speakers will further gain in flexibility.
Based on a coaxial design and rotatable CD horn, and optimized for BEM – for optional use as a PA speaker or floor monitor – and featuring various other features, LD Systems' ICOA series, by Adam Hall Group, can be called a universal solution for live applications. For permanent installations, passive ICOA models are also available in white and can be wall mounted vertically or horizontally, using a specially developed bracket with the Easy-Click connection system.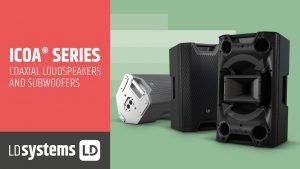 The ICOA series passive coaxial PA speakers are available in two versions: ICOA 12 and ICOA 15, equipped with 12" and 15" woofers respectively. Thanks to their bass response, these full range speakers are not only suitable for musicians and bands, but also for dance schools or traveling DJs who want to avoid carrying a heavy and bulky subwoofer. The ICOA series, in fact, is designed to bring to the public a full and powerful sound, with remarkable bass. Thanks to the coaxial structure, it's possible to rotate the CD horn optimized with the BEM method by 90° (together with the logo) and thus obtain the best emission angle for the speaker. In the BT model, the coaxial active speaker also offers Bluetooth streaming functionality, while the subwoofer (15" and 18") is the worthy completion of the series.
The latest news is that the ICOA presets for DSP 44 K and DSP 45 K power amplifiers are now available for download. Just go to the LD Systems website on the product page of each ICOA model to find the link from which you can very easily download the most suitable preset, a further tool to increase the flexibility of this series of speakers. In addition to the presets, specially adapted to the LD Systems DSP series, it's also possible to consult and download a PDF file that contains all the relevant technical data for the use of the speakers in combination with DSP power amplifiers from other manufacturers.