100
The importance of an efficient desktop configuration is often underestimated, but it's an aspect that greatly affects the effectiveness of the work, especially in the recent difficult times of the pandemic.
The health emergency has imposed greater attention on the objects that we touch when at work, and more generally on the hygiene of the workplace. A clean and tidy desk is also a more efficient desk, a place from which it is easier to work profitably. Well aware of these considerations, Aten proposes a solution called KVM switch, a vast family of devices that help simplify and better organise desks and work environments.
Among the many advantages of KVM switches is the ability to easily set up a multiscreen desktop configuration, which combines two basic features: viewing work on multiple screens and the ease of switching from one computer to another. There are three types of devices that allow you to structure such a configuration: with a KM switch you can control multiple PCs with a single keyboard and mouse; with a KVM switch you control the screen; finally, a KVMP switch allows peripherals such as storage devices or printers to be added to a centralised control. All this, of course, without even having to change the wiring of the system.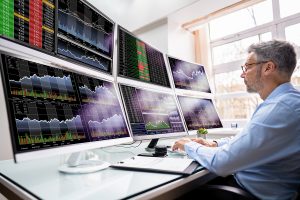 The first step is therefore 'boundless switching'- by moving the cursor along the edge of a display, it automatically switches to the display of the second PC. An entry level model, such as CS692 KM Boundless Cable KM switch, has two ports to manage two computers and two displays. It supports USB devices and doesn't require a power supply, so you will not need any extra cables. With a scalable model, however, such as the CS724KM Boundless KM Switch, devices can be cascaded to control up to 16 displays and 8 computers. KM switches typically allow one display for each computer. However, there are also KVM models, which offer Dual Display functionality, connecting two displays and up to four computers, for a smooth flow of information. Whether you need DisplayPort (CS1944DP), HDMI (CS1844) or DVI (CS1644) connections, Aten has the solution for you, with the same features and 4K video quality.
And then we come to the applications that require even more performing configurations, such as the simultaneous monitoring of multiple financial markets. Here comes the new CS1953 which is a KVM switch, which allows you to control 3 PCs, with support for 4K, USB Type-C port and for DisplayPort Alternate Mod, and the CS1964 Triple Display 4K KVMP Switch with DisplayPort and USB 3.0. A triple display and control of four computers from the same location makes it easier to manage a multimedia workstation. With the daisy-chain connection, you can control up to six displays.
Finally, ATEN Docking Stations also help simplify desktop setup. For example, the US3342 model allows you to transfer files between two different operating systems, always with a view to creating high-performance and tidy workstations, from which the operator can do everything with a single keyboard and mouse.
This post is also available in: Italian