135
K-array presented the new K1, a miniature audio system designed also for home environments, characterized by minimal visual impact for a great listening experience.
Music and, more generally, sound has the power to create an enveloping atmosphere, creating a feeling of well-being in the listener. Provided, however, that the audio system is very qualitative, both in public spaces and in domestic environments. This is the need behind the development of K1, the new micro audio system proposed by K-array, a Florentine company specializing in the design and production of "invisible" professional audio solutions.
K1 is a complete audio system with extremely reduced dimensions, with a design that fits discreetly in a small shop as well as in the living room, but at the same time characterized by an enveloping sound, due to the advanced technology that offers a quality equal to that much larger audio systems. Derived from a simplification of Azimut, the previous micro audio system designed by K-array for architects and interior designers, K1 maintains its characteristic compactness thanks to the use of Lyzard KZ1 as speakers for medium-high frequencies.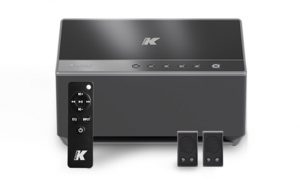 The Lyzard KZ1 wall speakers with 0,5" transducer have the size of a candy, a control unit that integrates an active subwoofer for low frequency sound reproduction and management of different sound sources. These two mini speakers, connected by cable to the central unit and housed in a durable and durable aluminum miniaturized chassis, ensure homogeneous coverage and clean audio. The active subwoofer is equipped with an internal amplifier that makes the system ultra-compact, while still ensuring very powerful low frequencies.
In short, K1 is easy to use and quick to install, it does not have to be configured manually, but is ready for use as soon as it's connected. With Bluetooth connectivity you can play music directly from your smartphone, tablet or PC.The Lyzard KZ1 loudspeakers, however, are available in two different black and white paints to better integrate with the environment. The control unit that integrates the subwoofer takes up very little space and can be placed on top of a piece of furniture or near the floor without affecting the sound quality. Basically, with K1 by K-array, you can enjoy the quality of a professional audio system in your own home, with little effort and without sacrificing aesthetics.
This post is also available in: Italian