111
Appointment not to be missed Wednesday 23 June at 3.30 pm: a webinar dedicated to the Sony BRAVIA professional displays, recently expanded with the introduction of new high-end and entry level B2B models suitable for every installation context and easy to integrate and control.
The webinar scheduled for Wednesday 23 June, at 3.30 pm Italian time, dedicated to the Sony BRAVIA 4K professional display range will be held by the Sony's Product Manager Kawtar Chamama, which will provide a complete overview of the new display line, presenting its most important features and key benefits, also in relation to the new models recently introduced. At the end of the presentation, participants will also have the opportunity to ask questions, as there is a specific Q&A session, which will ensure the necessary interactivity for the event. To register, simply fill out a form at this link.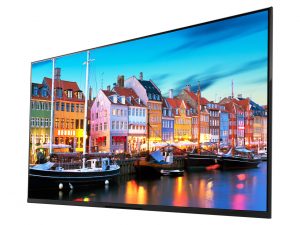 The full line-up of BRAVIA professional displays is available in sizes ranging from 32" to 100". The high-end BZ35J series, with brightness ranging from 560 to 570 nits and refresh rate of 120Hz, includes the FW-50BZ35J (50") and FW-43BZ35J (43") models. The entry-level BZ30J line-up, which reaches 440 nits of brightness with 60 Hz refresh rate, includes six models: FW-75BZ30J (75"), FW-65BZ30J (65"), FW-55BZ30J ( 55"), FW-50BZ30J (50"), FW-43BZ30J (43") and FW-32BZ30J (32", with 300 nits of brightness).
Born from the previous 32" and 100" models, the new BZ35J and BZ30J products cover the 43" and 75" sizes and are designed to meet the needs of corporate and education environments of varying sizes, from large conference rooms and auditoriums to halls and spaces for small meetings, without forgetting the various digital signage applications.
Featuring IP control, which makes simple installation and integration, and mirroring functionality, these new displays offer extensive connectivity with Wi-Fi, Bluetooth, Chromecast built-in and Apple AirPlay 2, so users can check, stream and share content quickly and easily.To complete the novelties, the new System-on-a-Chip (SoC) platform, with integrated Android operating system, which translates into an improved interface for ease of use and efficiency.
The products also integrate the latest 4K HDR X1 processor that enhances color, contrast, sharpness and movement, as well as TRILUMINOS PRO technology that delivers lifelike images with a wide range of colors. Also from the design point of view, the new Sony BRAVIA models represent a step forward: the possibility of inserting a logo on the side and the simplicity of installation meet the needs of the B2B market.
The BZ30J and FW-50BZ35J series will be released this summer, while the FW-43BZ35J series will be available starting next fall.
This post is also available in: Italian