172
Those who think of Video Walls as standardized installations have not done the math with the variety of LG offerings: twelve distinct series of monitors for Video Walls of all kinds and sizes, and lots of innovation related to brightness and thinness.
A Video Wall worth respecting must be seen…without being too noticeable! In other words, the thinness of the borders of its components must have an inversely proportional relationship to brightness and the brilliance of pictures in order to complete lively, pleasing and, when needed, surprising multimedia "puzzles." Indeed, everyone has heard of the so-called "Wow Effect" exhibited by viewers of particularly successful Video Wall installations whose screens, being perfectly united, make up a single body.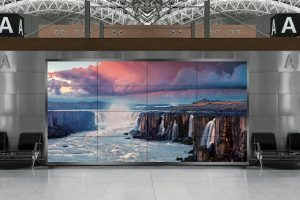 That which is entrusted to Video Walls is Digital Signage that is impactful, technologically advanced without being excessively aggressive. Since we are talking about LG, just think about the recent installation at the UCI Cinemas Multiplex in Orio Center, with LG Business Solutions displays installed in various spots, from the hall to the ticket office to the bar area, with the goal of digitalizing every phase of their service, including programming in the cinemas, timetables and seat availability. All the information is viewed on the latest-generation LG screens, and in the hall there is a beautiful Video Wall created with 47LV35A models that is a show in and of itself, utilized for large events and particularly anticipated film launches.
LG offers twelve series of Video Wall monitors at 55" and 49" in order to meet the numerous needs of end users and technicians, since ultimately no two Video Walls are the same! In fact, each installation, beyond the needs of the client, cannot ignore environmental aspects and the type of message to convey. The variety of offerings is thus explained by the desire to offer everyone their own Video Wall, rather than standardized solutions to which one's own needs must be adapted.


More brightness and Ultra-Slim solutions
In such an already vast and differentiated panorama, the primary creative and technological innovations consist partly of brightness, with the new 1500 nit High Brightness series, ideal for retail installations that feature monitors displayed in storefront windows, and of new Ultra-Slim versions, which feature borders as thin as 1.8 mm as opposed to the 3.5 mm of prior models (with similar brightness). For the 55" models, there is the VH7B-H, with 44% haze that is ideal for use in television studios, as well as the VH7B, both of which offer brightness of 700 nit and a 1.8 mm frame, while the VM5B monitor is slightly less bright (500 nit) but maintains the Ultra-Slim frame. As for the 49" size, we have the VH7C at 700 nit and the VM5C at 500 nit, both with the 1.8 mm frame. The usefulness of Ultra-Slim models is incredibly clear as soon as they are compared to models of similar brightness with 3.5 mm frames, practically double the width.


In terms of the 1500 nit High Brightness VX1D series, on the other hand, the main advantage is the brightness that allows for using monitors in indoor, brightly lit spaces as well as outdoors. The news is not over yet, since in October 2018 we will see the launch of a new series of 55" 700 nit monitors with 1.2 mm borders: displays that are increasingly capable of getting along with each other and created precisely for the purpose of being used creatively to make true animated and dynamic walls.
www.lg.com
This post is also available in: Italian
You might also like
---
More from References
---
8
The range of Christie's RGB laser projectors is expanding with the arrival of the new 50.000 lumen Mirage 4K model The …