136
Distributed by Prase Media Technologies, the Mersive brand reserves for ISE 2020 a very interesting series of confirmations and news regarding the Solstice platform
Solstice, the well-known Mersive platform for wireless sharing, enters the 4.4 era, with an update that also allows Chromebook and Linux users to take advantage of wireless sharing. In addition, guests can use the instant sharing function without having to download the Solstice App.
The 4.4 update also improves the reproduction of Digital Signage, the sharing of application windows, wired input sources and much more. The new update will be available in the spring, but it can already be tested, in preview, at ISE 2020, by visiting the Mersive stand (14-N130 and 14-N120): obviously we did not miss the opportunity!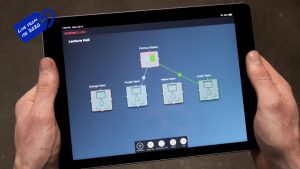 Here are the main features of Solstice 4.4:
– It allows you to connect any video conferencing service from a user's laptop
– It allows you to start the meeting in one step by sharing the Solstice display in the room with participants remotely
– Room attendees can continue sharing HD and 4K content simultaneously using Solstice
– Wireless connection to cameras, microphones and speakers for a seamless video conferencing experience
– New multi-screen video routing solution
– Drag-and-drop interface for design, implementation and use of multi-screen environments, in particular active classrooms
– No custom hardware or specialized programming required
– The active learning API exposes the active routing features for integration with third-party applications
– Cloud-based management and analysis combined in a single portal to manage, monitor, analyze and optimize global Solstice deployments
– Cloud architecture that resizes to handle deployments of any size
– Including new company-level security measures
In short, a lot of novelties for a product already well known and well placed on the market. Mersive is distributed by Prase Media Technologies, which offers the possibility – for those who could not physically visit ISE 2020 – to take a "video tour" on the booths of the main brands distributed by the company.
www.prase.it
www.mersive.com/it/
This post is also available in: Italian