128
The Italian company Euromet, manufacturer of frames and supports for projectors and displays, proposes itself once again as a "welcoming port" for all projection systems – regardless of the brand and size.
Euromet at ISE 2020 impressed with its "persistence": a well-known brand in the market of projector and monitor supports, as well as racks and frames, this year the company has confirmed its role as a "reference point" across brands and models.
Mario Romagnoli, Euromet Sales & Marketing Director, told us, in Amsterdam: "Euromet wants to be the reference point for all companies that make projectors. This is the meaning of the innovations we presented this year, which are essentially three: the first is a complete line for new interactive, universal whiteboards, by Samsung, LG, Sharp or Microsoft. The second change is equally important but perhaps a little less impactful: the development of a new cage, the UNIKA line. We added Epson certification to Christie and NEC, which we already had. The new cage concept that we wanted to introduce this year focuses on flexibility: the product is adaptable to all projectors, both 5.000-6.000 lumens and much larger ones, up to 30.000 lumens."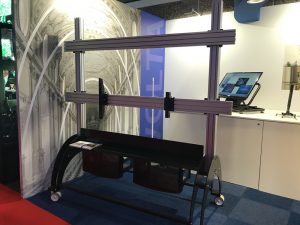 In short, a single product for everyone, undoubtedly designed to simplify the work of designers and installers. And the third novelty? "The third novelty" – Mario Romagnoli willingly replies – "we had actually already presented it a few months ago, and it is the VOLTA system, implemented for the rack world, and even more flexible: we are able to use it both for the LEDwall world and for the videowall world."
There were also some "classic evergreens" of the company on the Euromet stand:Élite, stand for floor monitors up to 65", and the stand for table monitors, well-known products that continue to be appreciated. To conclude, a further interesting novelty is the implementation of Arakno, to which an L-shaped element has been added which makes it suitable for portrait projections.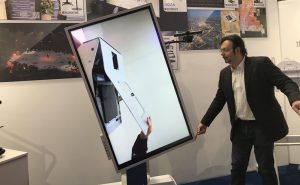 "Exactly", confirms Mario Romagnoli. "With a simple accessory, our Arakno becomes much more flexible. Flexibility is the key word of this ISE, for us: we have extended the range of action of different products, making them suitable for many projector or display models, and opening up to further applications."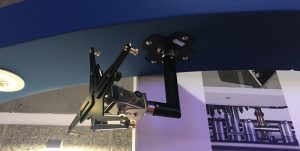 So, how was ISE 2020 for Euromet? "It was a very positive fair, despite the unforeseen events of this year", says Mario Romagnoli. And he concludes: "We needed to expand and complete our company offer. On the one hand, the projectors are getting bigger, hence the need to implement our cages; on the other hand, the chassis have shrunk at the same time, maintaining or increasing its power! There was too much distance between Arakno and a cage, in terms of performance. This is why we are thinking of a novelty that will be placed in the intermediate zone between these two solutions. What is shown at ISE this year goes in this direction."
This post is also available in: Italian