140
For Philips Professional Display Solutions, the first step towards innovation is to build partnerships, share experiences and to integrate solutions and technologies.
In addition to being able to view new products – most notably, the sophisticated modular indoor LED display series (with 27" and 44" panels, and pixel pitches ranging from 1.2 mm to 4.8 mm) and the advanced range of MediaSuite professional televisions with integrated Chromecast and Google Play Store – visitors to the Philips Professional Display Solutions booth at ISE 2019 had the opportunity to participate in a rich program of demonstration sessions dedicated to innovative AV systems and technologies.
We can certify that the focus and the perspective of the Philips PDS stand this year was to emphasise the role and value of partnership as a driving force behind the research and development of customer-oriented solutions optimised for different types of vertical markets.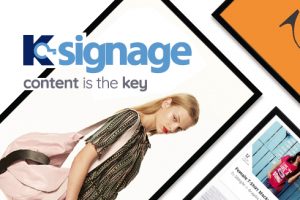 According to the positive feedback received in recent weeks, this approach proved successful, and it was made possible thanks to the involvement and active participation of Philips Professional Display Solutions' principal software partners, including Telenor Connexion, Admira, Daylighted, Deneva, Kemcomm, Meetio, Navori, Otrum, SharingCloud, Shoppa, SignStix, SNAI and TeamViewer. Each of them led visitors to new approaches in terms of connectivity, cloud-based and remote collaboration, content management for digital signage in areas ranging from public spaces, to meeting rooms, to retail.
Specifically for the retail sector, we would like to focus here on K-signage, the "Italian" software solution – presented at ISE by Kemcomm (VAD and certified partner of Philips PDS) – designed to simplify the management of digital signage content and schedules.
"The rapid evolution of digital signage systems and the increasing number of screens that have to be managed simultaneously – explains Augusto Ottolina, Technical Manager at Kemcomm – represents the real challenge today in the public display sector; K-signage is designed specifically to guarantee the right content, on the right monitor, at the right time. It is a powerful tool but, at the same time, flexible and easy to use".
See the interview of Augusto Ottolina with Connessioni at ISE 2019:


K-signage is a multi-player content management system that allows users to customise, distribute, plan and monitor all the contents of their display network through a single management interface, which can be accessed from any device connected to the Internet.
Additionally, K-signage is the first digital signage CMS that allows the importation of dynamic content from social media – Twitter, Facebook and Instagram – as well as images, videos, RSS feeds, live news and calendars.
For more information on K-signage and/or to request the Free Trial, visit the website: www.k-signage.com
Then, contact your Philips representative to find out about all the software solutions from Philips PDS partners.
www.philips.it/pm-pr/professionaldisplays
This post is also available in: Italian