96
Ambitious market projects for Sharp, which presents at ISE the first tangible results of the acquisition, 18 months ago, by the Taiwanese company Foxconn.
The investment by Foxconn was undoubtedly conspicuous, and it happened 18 months ago: at the last ISE, Sharp began to show the results of an acquisition motivated by the desire to restart with new energy and new projects, to reposition on the market. As Sid Stanley, General Manager of Sharp Europe, explained, "we will focus on various areas, some products which will be filling gaps and meeting large part of the market requirement, other parts are premium products, 4K display, very advanced tools and we will also launch a very advanced product, an 8K camera".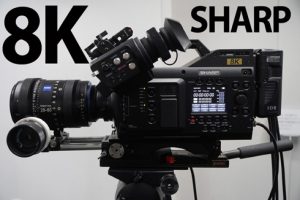 Talking about displays, Sid Stanley continues: "I think we have a very strong range and within that we want to have good solutions for the market, wheter it's a large display or a small display or an advanced display, we want to satisfy all the meeting rooms. Now that we have a good investment from Foxconn we can do other projects which are more ambitious. We have a message that is if you can bring tomorrow technology today then you can build a very good product. But also we want to help our customers to build business cases for 4K today, so having a 4K monitor is nothing new, there are several out there today. But now we have a vertical approach and we can add value to that, we have more precise guides in solutions display, in proposition rooms and so on. If you measure our business in term of financial resources, our profit is increased of 270% compared to last year, we are having a proper growth. We would say that Sharp is innovating, doing the basics as well, we could say that Sharp is back!".


While the 8K, we ask, does it already have a market, which is not that – even just opened – of a cinematographic context? Sid Stanley has no doubts: "Yes, so the market can educate you in this need, within a certain verticals there are certain systems integrated, understanding the medical imagines. If you want to diagnose imagines you have the best resolutions with that, you can spot something with this high resolutions. When you are in a survival mode you cannot thing of anything else, now that we passed that period we are thinking of where the market place will go, we are thinking of 8K, artificial intelligence, Internet of Things. The natural evolution is to make products smart enough so we can speak to them".
Speaking of the upcoming new camera, Sharp insists on its nature as a broadcast camera rather than a cinema camera, like most high-definition cameras (such as Sony Venice or RED Monstro). Sharp is decisively aiming, with this product, to the TV broadcasting market. The camera does not have an option for RAW recording, a strange feature for a film product, designed to provide footage to post-produce in very precise way. The ambitious project stems from a partnership between Sharp and Astrodesign, a company of the broadcast sector, specializing in 8K transmissions.
www.sharp.it
This post is also available in: Italian
More from References
---
11
Important news from the German d&b audiotechnik brand, which enriches its loudspeaker systems family with the new 44S: high performance …