165
Panasonic's large venue projectors were protagonists at the "World Master of Projection Mapping", with the suggestive show on the Eye Museum's roof and facade.
During ISE 2018, there was a special show in town at the Eye Museum that was made possible thanks to Panasonic's large venue projectors. A group of journalist was fortunate enough to be taken by Panasonic on a relaxing canal tour, culminating with the spectacular 3D mapping display on the angular roof and façade of the museum.
 As usual Panasonics' hospitality was first class, with noting left to chance: there were lovely cocktails to welcome us on board, a tasty Turkish buffet and even blankets and hand warmers for the braves amongst us that dare stepping outside to watch the show.
The display was part of Amsterdam Light Festival, where innovative and unique works of art were created and displayed through out the town for the winter months. In particular, the "World Masters of Projection Mapping" screenings at the EYE museum was a competition in which five leading video artists created the 3D video projection. But not only the façade was brought to life through projection but there was also projections onto a water screen, on the canal next to the building.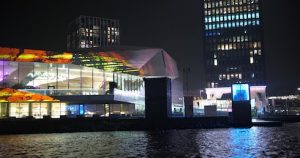 The competition came to an end the same day as ISE closed its doors on February 9th. An international jury observed this three weeks long project and cast their votes. The winner was: Stripes 5, by Florian and Michael Quistrebert, who received their honours at the Forum. The clarity and image precision of the Panasonic projectors was instrumental to showing the art pieces just as the artists intended them to be. The synesthesia concept, combining colours and music, expressed by Stripes 5 won the other four video art pieces Databased dialogues for algoritmic landscapes by Geert Mul, TESTFILM #4 by Telcosystems & Spatial Media Laboratories, Close Up by Alida Dors & Manuel Rodriges and Call waiting (o "water proof") by Eder Santos.
It was a spectacle worth watching and we are hoping that more of this will come next year.
ness.panasonic.it
www.iseurope.org
www.amsterdamlightfestival.com
This post is also available in: Italian
You might also like
---
More from References
---
11
LG Electronics takes another step towards redefining the standard for commercial display technology by launching LG MAGNIT, a new Micro …