79
The Marrelli Hospital in Crotone has chosen BTicino solutions to ensure energy and communication to one of the most innovative hospital complexes in Italy
It's widely believed that medical excellence are concentrated in the regions of northern Italy, while the southern hospitals just talking at scandals and errors. Instead, just in Calabria, it was inaugurated one of the most advanced medical facilities in Italy. This is the Marrelli Hospital, a center of excellence in the fight against cancer. The Head of Corporate Governance, architect Antonella Stasi, which in the past has also served as President of the Calabria Region, has not only invested in equipment and operator professionalism but she wanted to create an environment with high comfort levels. Entering the Marrelli Hospital, you are welcomed as to the reception of a hotel. Every detail was taken care of, even for the electrical system, with the choice of partners able to offer excellent products, a consulting service and continuous assistance. BTicino has proposed a complete catalog of all the products needed for the electrical system, which has added direct support guaranteed by Francesco Sestito, the local manager of the company.


In a health facility, the supply of electricity needs to be secure and guaranteed. To combine safety and reliability it was necessary redundant power supplies and the most important components from the transformer substation, where two BTicino THE 1000 kVA transformers were installed. It's an isolated resin equipment that, in addition to offering greater safety, prevent the waste of electric current.
In the transformer substation were then installed electrical cabinets MAS 400, in which includes all the equipment needed to power distribution in the entire hospital and in the center of radiology and therapy.
For wiring of the cabinets were chosen Switchboards Wired and Mounted proposed by BTicino, already tested and certified for a particular environment such as a hospital. Also important is the choice of creating three autonomous distribution lines, which connect the different loads according to specific needs.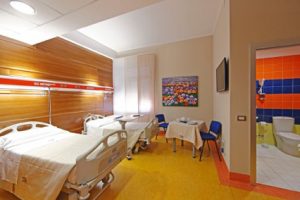 A choice that has simplified also the sizing and positioning of Legrand UPS (Archimod 100 KVA and Keor HP 160KVA), designed to ensure the continuity of power in all conditions.
For communication between the individual departments, it was necessary rather considerable bandwidth. That's why it was decided to build a fiber optic network based on BTnet structured cabling solutions by BTicino.
www.bticino.it
This post is also available in: Italian