183
The fifth edition of the Rimini event dedicated to Light, Sound, Visual, Integrated System & Broadcast is characterized by a decisive evolution: MIRTECH was born, from 8 to 10 March at the Rimini Fair.
Italian Exhibition Group has announced the new name and new dates for the next edition of MIR, which will be called MIRTECH and will focus even more on technology and innovation. Set for 8-10 March 2020, Music Inside Rimini, after four editions, evolves and becomes MIRTECH.
In short, the event organized by the Italian Exhibition Group is not limited to being recognized as an Italian reference fair for the Light, Sound and Visual sectors; neither is it satisfied to be the only fair in Europe to allow, thanks to LiveYouPlay, the live test of the various innovations of the companies. The re-launch of MIRTECH increasingly focuses on new technologies and projects dedicated to training, aimed at all sectors of the event.
The dates are also changing: MIRTECH, in fact, will no longer be held in May as MIR, but from 8 to 10 March 2020. The only thing that does not change is the location: the Rimini Fair is confirmed. The advance to March is an important innovation to intercept a greater number of companies, meeting a market need that, in that period, sets the main decisions and strategies.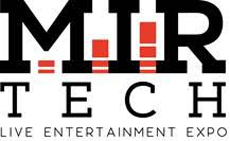 Furthermore, the staff of Italian Exhibition Group is working on many other innovations that aim to make the appointment with MIRTECH even more unique and unmissable: in addition to greater training and professional updating in the three macro areas (audio and lighting, professional video and integrated systems), there will be more and more opportunities to try out technologies and tools, new formats for shows and events dedicated to exhibitors and professionals in the field. There are also important international collaborations that should be formalized shortly.
However, there are also confirmations: from Lighting Designers@Work to the successful LiveYouPlay format, with the stages equipped with audio, video, lighting and effects technology from the sector companies. IntegrAlive, an area dedicated to integrated systems, has also been confirmed, set up with products and solutions capable of reproducing real conditions and environments of application of technologies, while interesting innovations are planned for Djzone.
www.musicinsiderimini.it
www.iegexpo.it
This post is also available in: Italian