151
Project of cultural contamination between arts, enterprises, technology and social innovation, BASE boasts an area of 12.000 square meters dedicated to exhibitions, shows, concerts, workshops and conferences.
Housed inside the former Ansaldo in via Bergognone 34, in Milan, and completed by a large study hall and an artist's residence, BASE is an important urban regeneration project, which reuses a monument of industrial architecture experimenting with new models of collaboration between public and private sectors: a state-owned building entrusted by the Municipality of Milan to a private, non-profit social enterprise, derived from the union of five associations and private, self-financed companies. The activity of BASE Milano is divided between laboratories, cultural meetings, artistic events, conferences and various activities that require large spaces.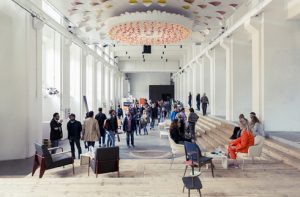 Recently, BASE installed a K-array amplification system to sound a large area called Space B. The characteristics of this area and the need for versatility have led to the choice of K-array KX12 system, as explained by Emanuele Calorio, BASE Milano's music/entertainment production manager: "We needed to equip the Space B of an amplification system suitable both for live shows and for the numerous conferences held in this area of BASE Milano. We also wanted a system so versatile that it could also be used for film projections with Dolby Digital audio. These requirements led us to choose the KX12 loudspeaker, able to offer all the power and fidelity needed for a live musical show, but also the uniform coverage and the perfect speech intelligibility necessary to make a conference clear for hundreds of listeners."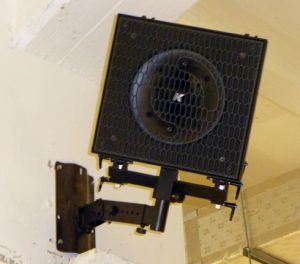 The main system consists of four KX12 (two on each side) and two sub-KMT21 (one on each side), but other KX12 loudspeakers are already provided on the long side of the room and mounted on brackets that allow them to rotate horizontally to obtain further flexibility of the audio system. A KX12 as front-fill is installed above the stage in the center, pointing towards the front rows of the audience. The rather minimal design of the loudspeakers, and the reduced dimensions, allow to have at the same time a wide coverage and adequate sound pressure, although disappearing in the space, as often required for installations dedicated to design. Finally, a pair of the new K-array KM112 stage monitors is available to performers on stage.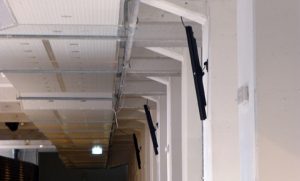 "The Space B" – concludes Emanuele Calorio – "also provides a large area that flanks the main hall. To adequately cover this space too, three Kobra KK102 loudspeakers have been used, opportunely pointed and delayed. We were able to quickly install the entire system and to use it with full satisfaction at Linecheck, the great festival and meeting that BASE Milano hosted in November 2018 within the Milan Music Week."
This post is also available in: Italian