103
The IBC 2018 edition, just concluded in Amsterdam, saw Matrox fifth participation at the IP Showcase, a space dedicated to training on the commercial and creative potential of IP multimedia solutions.
IP Showcase offers a series of practical presentations and demonstrations for system integrators and IP solution designers. The IP Showcase has been instrumental in helping the industry to galvanize behind the standards-based approach to IP. The event is hosted by major technical and standards organizations within the broadcast industry—Audio Engineering Society (AES), Alliance for IP Media Solutions (AIMS), Advanced Media Workflow Association (AMWA), European Broadcasting Union (EBU), Society of Motion Picture and Television Engineers (SMPTE), and Video Services Forum (VSF).
Investing over four years in SMPTE ST 2110 development, Matrox once again poised to be at the heart of 4K over IP. In a series of IP-based product interoperability presentations, the Matrox X.mio5 Q25 network interface controller (NIC) card will deliver multiple, game-changing 4K/UHDp60 channels over 25GbE, while the Matrox X.mio3 NIC card will provide multiple broadcast resolutions running over the same 10GbE network.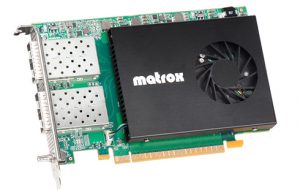 At the IP Showcase, OEMs were able to discover and test these Matrox SMPTE ST 2110-based NIC cards, that allow them to build and deploy advanced broadcast graphics systems, channel-in-a-box platforms, and capture/playout video servers for any 4K/UHD and HD over IP workflow.
Matrox X.mio5 Q25 is a SMPTE ST 2110 network card for IP workflows from HD to 4K.


Equipped with 25GbE and 10GbE interfaces, this card features multi-channel IP video I/O from HD to 4K and delivers 24/7 reliability and interoperability required of broadcast equipment, while offering the flexibility and scalability expected of IP infrastructures. Matrox X.mio5 Q25 also allows for PC-based platforms to receive and transmit four 4K/UHDp60, 16 1080p60, 32 HD, or any equivalent combination of flows over 25GbE.
Matrox X.mio3 offers instead a Multi-channel video I/O over 10 GbE plus onboard video processing for SMPTE ST 2022-6, SMPTE ST 2110, and SMPTE ST 2022-7 transport protocols.
www.matrox.com
This post is also available in: Italian
More from References
---
12
Important news from the German d&b audiotechnik brand, which enriches its loudspeaker systems family with the new 44S: high performance …