56
Step 1: monitor the air exchange. ClassroomCare technology integrates air quality sensors into products intended for the Educational world, one of the sectors most affected by the "new normality".
Healthy learning cannot be separated from good air quality: thinking of many people in a closed environment is now almost a taboo, yet the school needs to restart even in the presence, and must be able to do it safely and with all the necessary guarantees.
Classrooms with poor air exchange can promote the spread of viruses and bacteria, but also cause headaches, drowsiness and reduced student involvement.
Precisely for this reason, BenQ has thought of integrating the ClassromCare solution into its interactive displays, thus equipping them with air quality sensors that provide, in real time, data on the most important environmental parameters, as well as detecting temperature, humidity and the concentration level of PM2.5, PM10 and CO2. In short, these sensors help to keep the rooms airy and healthy, alerting the staff where the measured values ​​are out of the correct parameters. In that case, it may be sufficient to open the windows of the classroom to restore a healthy environment. Very often, in fact, it is precisely small measures like this that guarantee the safety and healthiness of a classroom.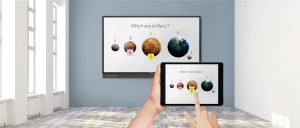 BenQ ClassroomCare solutions, launched in 2012, thus before the pandemic, are even more important today as the world is preparing for the "new normality" and classroom redesign and remodeling needs arise. The BenQ ClassroomCare proposal is articulated in two different series of interactive displays: RP and RM. Both series offer a 4K UHD touch screen, a cloud whiteboard, an effective account and display management system, Eye-Care technology for eye protection and germ-resistant screens, thanks to a multi-layer coating in silver nano-ion, a technology created on the basis of the latest scientific research.
All components are non-toxic and designed for a long life, the multilayer coating (which lasts for the entire life cycle of the product) is able to eliminate most of the bacteria that accumulate on its surface and prevent the spread of infections in the classroom.To this package of features, the RP series also adds air quality sensors, a motion sensor and NFC technology. The interactive whiteboards of the RP series are available in 65″, 75″, 86″ sizes. The RM series also offers the 55"-size model.
This post is also available in: Italian