60
Step 2: stop the spread of viruses and bacteria. BenQ Germ-Resistant screens are characterised by a high-performance multi-touch technology combined with a tempered glass surface (4mm, 9H) with a resistant and non-toxic silver nano-ion coating.
Today's learning needs do not disregard a high degree of interactivity, even and especially when working in person. Furthermore, for certain age groups, face-to-face teaching is essential to ensure the involvement of students. After a difficult period, even schools are preparing, in view of next year, to go back to everyone being in person, and to do it in total safety both for the teaching staff and for the students.
B
enQ ClassroomCare solutions fully meet this need: they feature interactive screens that offer anti-bacterial protection that covers the entire life of the product and is designed to encourage healthy and productive learning.
In fact, while offering greater flexibility than traditional teaching methods, multi-touch displays can potentially be vectors of infection, since their use involves the use of hands and frequent contact with surfaces.
In 2017, BenQ was the first company to implement silver nano-ion coating in large touch displays. The Germ-Resistant silver nano-ion coating incorporated into the ClassroomCare displays helps prevent a wide range of potential health risks, not necessarily just related to Covid-19, but also all other diseases and infections that can circulate in closed environments (eg Staphylococcus aureus, Klebsiella pneumonia, Pseudomonas aeruginosa, Escherichia coli, Salmonella.) The properties of silver have been known for centuries and constitute an excellent defence mechanism: bacteria naturally absorb the ions of silver nanoparticles (AgNP) (Ag +). Once inside the bacterial, viral and fungal structures, the agent stops microbial replication and reproduction. This prevents the increase in bacterial populations and, secondly, allows the multi-touch display to be effectively sanitised, as microorganisms cannot replicate on the screen surface.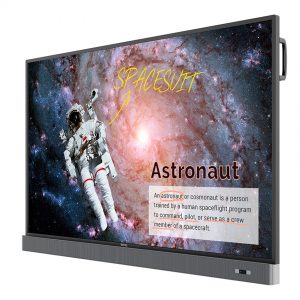 Divided into two series, RP and RM, BenQ ClassroomCare interactive displays offer 4K UHD quality in various sizes (55 ", 65", 75 ", 86"), for all needs and for classrooms of different sizes, and are characterised by the TÜV certification as effective products against specific pathogens. The Strategic Insurance Agency Alliance (SIAA) has also validated and certified BenQ ClassroomCare models for anti-pathogenic efficacy and user safety.
Complemented by Eye-Care technology, which preserves vision even after long work sessions, and by the presence of several integrated sensors for air quality control, BenQ ClassroomCare interactive displays help to let the school in the future.
This post is also available in: Italian