90
The Tripleplay brand, distributed in Italy by Prase Media Technologies, has launched its new Digital Engagement platform, which offers SaaS licenses and a flexible subscription model for IPTV, Digital Signage, Video Streaming and Webcasting.
The Tripleplay brand is undoubtedly a flagship for Prase Media Technologies, offering solutions that are the result of many years of research and development. The new Tripleplay Cloud solution, one of the most user-friendly platforms in the industry, offers many benefits, from reduced installation and maintenance costs to full scalability that meets the particularly changing needs of companies and organizations, especially in these pandemic times.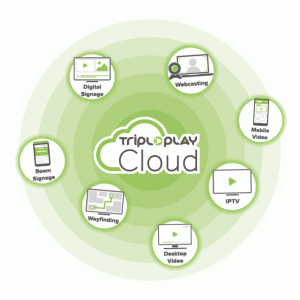 In addition, the platform allows you to use a SaaS model with predictable billing schedule, as well as deliver webcasts to mobile, desktop and digital signage displays, both as live and pre-recorded content.
Tripleplay Cloud is a modular platform, which allows users to add or remove components as needed, with the consequent economic benefits linked to the renewal or not of the relative licenses. The solutions can also be deployed in a different geographical area by simply sending a device. Tripleplay Cloud is also simple to install, update and maintain, as updates are centrally distributed to applications, facilitating the installation and management of hardware and software with less end-user workload and responsibility.
The analytics dashboard with which the platform is equipped also allows the user to check the performance and degree of involvement of their network, as well as monitor who is using the system and the status of the media players. Finally, there is also the possibility of creating reports on individual content or campaigns launched, in order to maximize audience engagement and have a clearer perception of ROI.
www.prase.it
www.tripleplay.tv
This post is also available in: Italian