Created and distributed by Frenexport, the Helvia brand offers an interesting model explicitly designed for Ho.Re.Ca applications: Hôtellerie, Restaurant, Café. In short, from hotels to bars (even outdoors), Helvia Lido feels (and makes you feel) at home.
After a very successful ISE, in which Frenexport has participated with some of its most important brands including, precisely, Helvia, a product that deserves further study is the Lido two-way wall mounting passive speaker, widely used in the Ho.Re.Ca. sector and also particularly suitable for outdoor installations in lounge bars, kiosks, restaurants, etc.
Three versions for a single model
The Lido series is specifically designed for flexible applications, both indoor and outdoor, in systems involving constant voltage or low impedance. There are three versions available, depending on the needs of the location or installation: 4", 5" and 6,5", all three with the option of choosing the color, white or black. Therefore, this two-way passive speaker for wall mounting was created to meet the different needs of the restaurant and hotel industry, characterized by an extreme variety of environments and designs. Thanks to the IP65 degree of protection, the PP woofers and cabinets, resistant to UV rays, as well as the metal parts in stainless steel and the aluminum front grille, Helvia Lido speakers can also be mounted outdoors, exposed to atmospheric agents , a very useful feature in the case of rooms with dehors or outdoor lounge bars (terraces, gardens, etc…). The type of material with which Woofer and Dome Tweeter were made and the thickness of the external parts have been designed to maintain good frequency linearity and excellent dynamic response, even in the presence of rain or humidity.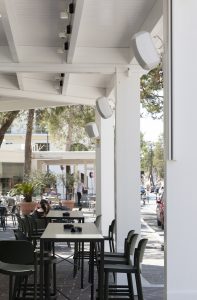 Sound quality and high SPL
Beyond the installation flexibility, however, Helvia Lido speakers also offer high quality sound, without which the evident success of the model on the market would not be explained. The custom high-excursion transducers, in fact, guarantee a very clear and defined sound, providing high audio quality at high SPL. In addition, the power-tap selector allows you to select three different powers and adapt the speaker to 100V or low impedance systems. Not least, the "C" bracket allows you to choose the mounting position of the speaker, opting for horizontal (+ 55°/-55°) or vertical (+ 20°/-20°), depending on your needs.
Long life thanks to the details
A very accurate design, also and above all in the details, guarantees these loudspeakers a long life cycle, making them a safe, long-lasting and reliable investment for those who buy them. First of all, the choice of construction materials is made according to their duration, also in consideration of outdoor installations and in difficult weather conditions. The cabinet and rubber covers, for example, are made of UV-resistant plastic, while the front grille is in treated aluminum for greater resistance to atmospheric agents. Finally, demonstrating the design precision of Helvia Lido speakers, the fixing screws are in stainless steel, to ensure the best possible seal in any climatic condition.
An identikit: the salient features
2-Way Passive system with 40W RMS Power
IP65 Protection Rating for Outdoor/Indoor Applications
UV-Resistant PP Housing
Built-in 100V Line Transformer
Power Tap Selector for 100V or low-impedance systems
Horizontal and Vertical adjustable C-Bracket
Paintable Housing and Grille