101
The participation of Samsung at the Fuorisalone 2019 is complex and articulated: a four-step itinerary at the Samsung District @Smart Arena tells in 8K a fascinating and new Milan, while an interactive installation in via Bergognone involves visitors in the relationship between technology and the real world.
Samsung Electronics has proposed, for the Design Week 2019, "MILAN UNVEILED – Journey into the city that you have not yet discovered", an installation built with QLED 8K technology in the Samsung Smart Arena. Four short 8K documentaries show a hidden city of Milan on different Samsung QLED 8K monitors.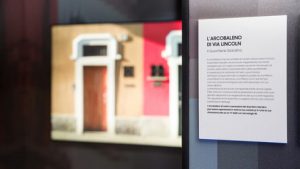 From the Braidense Library to the Garden District of Via Lincoln, a true oasis in the heart of the city; from the Civic Aquarium, an elegant liberty building in which an ocean ecosystem lives, up to the Highline Galleria, with its 250-meter walkway that allows you to take a stroll in the sky of the city, the visual journey offered by Samsung is suggestive and further enhanced – in addition to the choice of locations – by the 8K resolution, which enhances the details and the purity of the image.


Samsung QLED 8K Q900R monitors of different formats (85", 75" and 65") were used, including Real 8K Resolution technology with a maximum brightness of 4.000 nits. The Q900R model, moreover, uses proprietary 8K AI Upscaling technology, based on artificial intelligence integrated in the Quantum processor, able to optimize the quality of both image and sound, regardless of the original format of the content, at 8K resolution. In addition, the Samsung 8K QLED TVs also include the Direct Full Array Elite technology, which raises the contrast ratio, and the HDR10+ standard.


The Samsung Fuorisalone 2019 was then completed by "Resonance", interesting installation set up in the Spazio Bergognone 26, and designed to create a close interaction between technology and the "real world." Visitors move in a maze of lights and colors in which a series of installations connect the sound and the voice of the visitors, with a series of clearly visible physical effects: the agitation of a "carpet" of balls, the oscillation of "strings" that simulate the vocal cords, up to the reproduction of a small natural ecosystem that varies and changes depending on the action of the spectators.


In short, visitors become an integral part of the exhibition, which lives thanks to them, and feeds on their simplest and spontaneous gestures such as breathing, talking, touching. A way to express and make visible the growing weight of technology in the world around us.


www.samsung.com
This post is also available in: Italian