112
In via San Carpoforo 9 in Milan this year, on the occasion of the Fuorisalone, there is Bang & Olufsen with a fascinating exhibition of historical products and company news.
Ninety-three years of history are no joke. Bang & Olufsen, the famous Danish brand of loudspeakers and audio equipment, has chosen Milan, and the Fuorisalone, to blow on the many candles, by setting up a splendid exhibition that combines the latest news with the old glories of a company that has always been recognized in the world not only for the construction quality of its products, but also and above all for design research. In the space of Via San Carpoforo 9, in the heart of Brera, accompanied by an enveloping sound carpet, a journey through time is fully accomplished. The gray walls of the space, the white curtains, minimal, and the grace with which the products – of various ages – are exposed, draw a suspended atmosphere, so that – at the end of the visit – the visitor returns to the urban confusion of the narrow streets of Brera with a bit of annoyance!


The time dedicated to Bang & Olufsen is rewarded, both for the news (the "Bronze", very elegant version of the most recent products, from BeoSound to BeoShape up to the new Beosound Edge) and for the historical journey in the old glories. Moving around the rooms of San Carpoforo 9, in fact, is not so much (or not only) as to retrace the history of the company, but rather to experiment a series of extraordinary combinations of eras and design, such as that between Beolit 39 (1939) and Beoplay A2, designed by Cecilie Manz in 2015!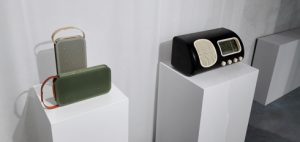 Past and present touch, this year, in the Bang & Olufsen Fuorisalone, and communicate, giving life to a vision of the future, represented not only by the new "Bronzes" but also by a proposal like Beovision Harmony, fascinating and challenging, in the pure style of the Danish brand.


And again, the beautiful all-in-one Beosound Edge wireless speakers, with a minimalist design and powerful and dynamic sound, designed for a touch and motion experience. And finally the new BeoLab 50 active diffusers, undoubtedly high-end products, made of aluminum and oak slats. These speakers include the new Active Room Compensation calibration system, which "reads" the environment data (amplitude, presence of walls, furniture, etc.) to better calibrate the sound diffusion, linking it to each space in a way that is almost personalized.


In short, this year Bang & Olufsen has moved into the Temporal Dimension, offering visitors a truly unique sensory and intellectual experience. Absolutely to visit!
www.bang-olufsen.com
This post is also available in: Italian