39
Designed for Digital Signage applications, the new EV-110 3LCD laser model has its natural habitat in tourist attractions, museums, galleries and retail environments.
Epson has announced the new LightScene EV-110, an elegant 2.200 lumen laser projector that offers users extensive digital signage and messaging capabilities, as well as the ability to create borderless images, filtered lighting effects, 3D object mapping and Edge Blending effects, dramatically improving the viewing experience. The projectors of the LightScene range allow operators in the hospitality sector to offer customers more engaging entertainment experiences, while museums and art galleries can project digital art or artistic content, developing new exhibition concepts or creating experiential environments that surprise visitors.
The latest models in the LightScene range offer various new features, including the GPI function, which makes it possible to easily realize various sensor-based interactive situations. In addition, these projectors are designed to simplify installation thanks to specific features, including wide optics with motorized zoom, geometric correction, design for mounting on the ceiling, on the wall, on the floor or, alternatively, fixing to a track lighting system.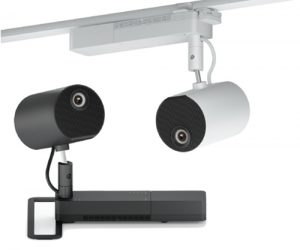 The new EV-110 model, on sale starting in the summer of this year, is available in white or black and has a compact design that minimizes visual noise and easily adapts to any environment; in addition, the projector has a built-in media player for content playback without the need for cables, as well as Wi-Fi and LAN connectivity for creating and managing live content using the Epson Creative Projection app and Epson Projector Content Manager software. Integrating this projector into the existing CMS infrastructure is also easy thanks to HDMI connectivity. Finally, since it's a laser projector, the high reliability of the light source should be emphasized (5-year warranty, up to 20.000 hours of operation without maintenance). For added durability and robustness, the optical engine is sealed with a filter-free design.
Gianluca De Alberti, Sales Manager Professional Display of Epson Italy, thus seals the launch of the new model: "Customers do not want to be constrained by the limitations of flat screen displays, but ask for products such as the EV-110 to create innovative and engaging experiences in spectators. By offering creative, borderless, sensor-based content, along with a product that integrates into the environment, it's easier to create striking images to further improve the way customers interact with brands and products."
This post is also available in: Italian