139
The consolidated partnership with Zebra Multimedia has enriched the Epson booth at ISE 2020 with a fascinating projection… on the sofa! But there were also technological innovations, starting with the new 30.000 lumen projector
Epson has brought a wide range of new audio-video solutions for companies, retail and education to ISE 2020. In addition, as an added value, the company's stand in Amsterdam was able to boast the work of Zebra Multimedia, a rampant company specialized in the development and realization of videomapping installations, created precisely with Epson projectors.
Let's start with the news. First of all, of course, the new top-of-the-range 30.000 lumen EB-L30000U laser projector, for the high-end installation market, which was anticipated just a year ago, always in Amsterdam. Exposed in double stack, the projector has allowed to outline a fascinating 4K enhanced 60.000 lumen solution.
A new range of AV solutions for companies, retail and education was also presented, among which the new ultra-short ELPLX03 optics for high brightness laser projectors with 25.000 and 30.000 lumens, the new laser optical projector ultra-short EB-1485Fi with dual link edge blending function, particularly suitable for business meetings, and the two new projectors for Digital Signage applications, EB-W70 (for retail outlets) and EB-805F (for Corporate). Finally, to close the gallery of news presented at ISE 2020, a new ProAV software tool based on MAC address, particularly intuitive and easy to use.

To catalyze the attention of the public, however, the video projection #EpsonUnboxed, an installation with graphic effects and videomapping that involved the public in an active experience, culminating in the appearance of a real Formula 1 car.
Speaking of videomapping, the Epson stand at ISE 2020 was also enhanced by a fascinating "animated sofa", of which we spoke with Sebastiano Antonello, CEO of Zebra Multimedia, a team of creatives and technicians who creates immersive installations and videomapping, Epson's partner on many occasions: "Our company was born, practically, together with Epson Italia, since we used Epson projectors for our first mappings. At some point, in the Epson environment they noticed us and we got in touch. Five years after those first official contacts, here we are at ISE!"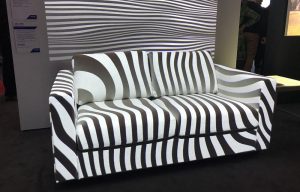 The structure of Zebra Multimedia is very clear: "We have an excellent design department" – confirms Sebastiano Antonello – "as well as a creative and 3D and 2D modeling department. We also deal with programming, technical assistance and remotely. We create content, work on software and the control system, and provide customers with complete packages, to which we can also add the interactive aspect. In this sense, Epson projectors are spectacular machines, perfect for being integrated into our systems."
The installation created at ISE 2020 is an "interactive sofa", with different textures that can be customized and changed in real time. "We wanted to give an idea of the customization possibilities for retail or automotive environments", explains Sebastiano Antonello. "This sofa is a starting point, from which it's easy to imagine other possible applications: immersive rooms, multisensory environments…"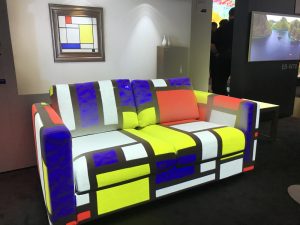 The front projection was made with a 9.000 lumen Epson projector. On the other hand, the EV-105 model was used, a smaller projector, ideal for completing the installation.
The Epson stand was completed by the prototype of the EB-805F model, which incorporates ultra-short optics and is perfect for museum and design installations, and by the immersive experience with Moverio smartglasses, organized in collaboration with Emozionella and Toledo Train Vision: a trip on the Toledo tourist train recreated by augmented reality and Epson projectors.
This post is also available in: Italian