126
The company is bringing important news and innovations to Amsterdam aimed at the audio community, intended to guarantee maximum personalization and optimal sound performance to systems integrators and end users.
From outdoor speakers from the ArenaMatch line to DesignMax solutions for commercial areas, moving on to PowerShare power amplifiers and finally landing at CSP commercial sound processors, the Bose Professional experience at ISE 2019 (RAI Amsterdam, 5-8 February) promises to be rich with technological innovation and unprecedented, yet-to-be-discovered announcements.
In the vast exhibit spaces of stand 7-C200, Bose staff will accompany visitors of the Dutch event in an interesting universe of professional audio solutions. Here is a preview of the "quartet" of products that will be launched at ISE.
ArenaMatch outdoor speakers
Our journey begins with ArenaMatch DeltaQ array speakers and ArenaMatch Utility speakers, dedicated to outdoor installations and both featuring IP55 protection. Specifically, the models with DeltaQ array technology improve audio quality, consistency, vocal clarity and flexibility in applications such as sports stadiums, arenas and open-air entertainment centers. DeltaQ technology furthermore allows for varying the directivity (the "Q" factor) of each module, for adapting the coverage of the listening area with precision. The speakers interface with all PowerMatch amplifiers, ControlSpace DSPs and the Bose ControlSpace Designer software, just like Dante connectivity. Intended for zone-fill or foreground music with elevated SPL, the four new Bose ArenaMatch Utility speakers instead offer tonal balance similar to that of array modules, but in a more compact design. They are equipped with an EMB2S compression driver (also present in the ArenaMatch devices) and guarantee considerable sound and maximum resistance to atmospheric agents. The largest modules (AMU208) are ideal for highly complex installations, thanks to frequency response from 70 Hz to 16 kHz and to 126 dB maximum SPL, and manage a deeper vocal range.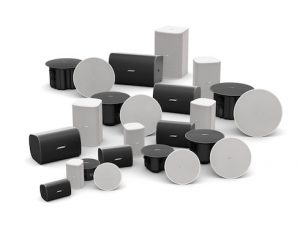 DesignMax: sound and aesthetics in commercial spaces
The second offering for sound broadcasting, the new DesignMax family offers integrators the possibility of personalizing each application, choosing from among ten speakers and two subwoofers, which include ceiling and wall mounting as well as options for outdoors. The range includes both 2" low-profile models and 8" high-SPL speakers, equipped with compression drivers. All the offerings immediately develop an optimal sound, without a need for EQ or DSP. To further improve performance, just enable Bose EQ voicing, using Bose digital audio processors and smart amplifiers; to further optimize the sound, at any listening level, it is also possible to activate SmartBass processing. The refined aspect of the cabinets, elegant grills with very thin frames and the removable logo allow the speakers to be perfectly integrated in any architectural style. Furthermore, the wall models are equipped with hidden U staffs, whose exclusive design makes the speaker more adherent to the wall thus guaranteeing a clean aesthetic, while the entire line is available in black or white, with the possibility of painting the device.
Custom-made amplification with PowerSpace
Ideal for zone expansions, the new P2100A, P2600A and P4300A (2 x 1000, 2 x 604 and 2 x 300 W) models improve each commercial audio installation with clean, reliable amplification, in addition to digital connectivity. A Bose AmpLink input allows for acquiring (via Cat 5 cable) multiple, uncompressed, digital format audio channels at low latency from Bose digital sound processors. Versatile outputs offer the flexibility to emit full channel power to low- or high-impedance loads without bridging, or also to provide double power to a single zone. Furthermore, the P4300+ and P4150+ (4 x 300 and 4 x 150 W) models combine power and DSP incorporated into a standard, compact single rack unit. The onboard configuration utility, on a user interface via browser, makes the system's setup faster and more accurate and reduces installation times. Designed for high-quality commercial applications, Bose PowerSpace+ models offer amplification and DSP in a single, easy-to-install integrated solution.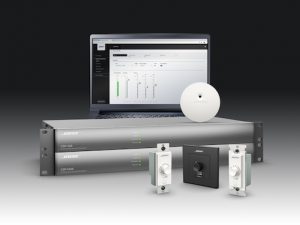 CSP Commercial sound processors
Last but not least, the CSP-1248 and CSP-428 commercial sound processors are part of a complete platform – Bose Music Systems – that includes loudspeakers, controls and software to help technicians efficiently develop high quality sound systems without the need for long training on DSPs. The processors offer the right combination of inputs and outputs, including balanced analog I/O and mono-summed RCA inputs, in addition to logical control inputs and outputs and mute contact. The Bose AmpLink output allows for simplifying digital sound connections to compatible power amplifiers, reducing the number of connections and thus points of failure. In addition to allowing for configuration via Mac or PC, the Ethernet port on the rear panel can connect to ControlCenter optional zone controllers and to the ControlSpace Remote app. Finally, the AutoVolume compensation—if used with a Bose AVM-1 sense microphone (sold separately)—is able to continuously adapt zone output level based on ambient noise.