105
Ecler differentiates and reorganizes the product lines, with ACOUSTICS and VIDEO SYSTEMS categories, which respectively offer acoustic and video signal management products.
If the Ecler brand, as far as audio is concerned, is well known worldwide, the same cannot be said for the video, which marks an important turning point: at ISE 2019, in fact, the new Ecler VIDEO SYSTEMS division was officially introduced, which offers top quality video solutions including HDMI management and distribution up to 4K@60Hz/HDR/4: 4: 4 and intelligent integration with EclerNet and UCP (User Control Panels) hardware graphic control screens; all with quality and reliability in line with Ecler's reputation, which also guarantees project advice and total technical assistance.
Structuring a video system mainly means providing an accurate distribution of the signal, and here comes the new extender by the Catalan brand, distributed in Italy by Exhibo. VEO-XRI1C is a Full HD HDMI over IP extender that uses H.264 compression and is very suitable for the creation of AV over IP matrices in point-to-multipoint configurations and also for point-to-point extensions up to 120 meters on single cable Cat.5e/6. This is an over IP solution designed for hotels, shopping centers, meeting rooms, classrooms, airports, railway stations and for all applications where the most important aspect is the reduced band occupation. The extenders can be powered either by PoE or by the external power supply supplied with the unit. The control panel is intuitive and equipped with a LED display, allowing you to select the streaming channel without the need to connect a PC. Web browser interface, PC tools and third-party control protocol are available for advanced settings and advanced control.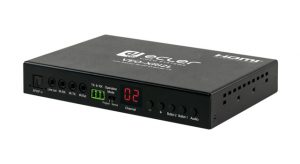 When the main concern of the user was latency, here is the VEO-XTI2L model, a low latency 4K Over IP 4K video extender. This product provides an optional fiber optic connection for the extension of 4K signals up to 2 km, and is an over IP solution suitable for all applications requiring low latency video for real time or KVM. Analog and digital audio embedding and the video wall option make this product a very versatile solution for many applications. The user panel is, as for the previous model, very intuitive, with a convenient LED display and power supply both via PoE and via an external power supply unit included.
On the audio side, however, Ecler needs no introduction: the ACOUSTICS division was created with the aim of achieving levels of excellence in audio distribution and acoustic comfort, as well as in the ecological impact of audio solutions. There are six models introduced, for all the most diverse applications, from restaurants to offices, from hotels to sports centers and school classrooms. In short, Ecler is truly a brand for all tastes.
www.exhibo.it
www.ecler.com

This post is also available in: Italian
You might also like
---