106
An Adaptive Evacuation solution even faster and safer: it is Matrix CGLine+, a new Eaton proposal to modify in real time the evacuation routes based on the nature and the location of the danger.
Matrix CGLine+ is a new adaptive signaling device that allows real-time modification of evacuation routes, changing the direction of the displayed arrow in order to accelerate the evacuation in structures such as airports, railway stations, stadiums, offices, schools, hospitals, universities, shopping centers and industrial plants.
The device basically displays a static or dynamic arrow that can point in all directions. Thanks to the animation, the visual impact of the arrow is considered more effective by most people and makes it possible, moreover, to alert people with hearing disabilities. In addition, Matrix CGLine+ shows a red X where a particular way out or path is closed, blocked or dangerous.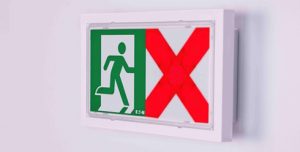 The solution is designed not only to guide in the evacuation, but also for situations where people need to be kept in a safe place. For example, during a terrorist attack in a school, the display of a red arrow above the door will alert students not to leave the classroom. It is possible to modify the pictogram by input from the device or through the Eaton adaptive evacuation system following predetermined switching of fire alarms, smoke detectors, panic buttons or other inputs. The CGLine+ adaptive evacuation system is capable of receiving up to 30 switching inputs. An integrated backup battery ensures the operation of the device even in case of power failure. Compliant with European emerg
ency lighting regulations, Matrix CGLine+ can also function as a standard signaling device.
Equipped with LED technology and lithium batteries, it offers a long-term reliability and long maintenance intervals. The high luminescence of contrasting white also ensures a high level of perceptibility even in conditions of considerable brightness.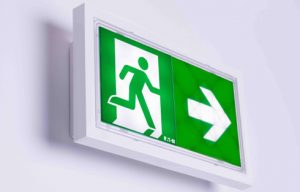 The connection of the CGLine+ controller also makes possible an automatic test program that continuously monitors the operating conditions of all lighting fixtures within the system, reducing the time and cost of regular manual tests. Any critical failure is identified and reported by an automatic e-mail function, reminding the repair more promptly.
www.eaton.it
This post is also available in: Italian
More from References
---
14
Sveta Ana, in northeastern Slovenia, is a quiet village known as the starting point of a famous religious pilgrimage trail. …