165
Mobile devices and virtual reality are at the heart of the e-commerce portal's new section born from the partnership between Domino Sistemi and Samsung Electronics.
Large formats are no longer enough: as on the consumer front we are increasingly dependent upon smartphones, tablets and other portable devices, so the world of professional visual communication finds itself having to come to terms with the unstoppable wave of digital transformation. Displays, totems and classic digital signage solutions combine with the latest "mobile" or even wearable video technologies, capable of streamlining operating processes and methods for consumer engagement, maximizing promotional activities and business potential for all commercial activities.
The growing need for integration between large format and mobile devices is fully embraced by Domino Sistemi Srl with the introduction of the new "Mobility" section on their online shop, DominoDisplay.com. As of April 2018, the notable e-commerce site with multimedia solutions for visual communication, fruit of their collaboration with Samsung Electronics, makes exclusive technological offerings available to professionals, resellers, companies and end users in developed bundles of tablets, smartphones, wearable devices and VR visors. We learned more about the news and underlying strategies at the root of this unprecedented move with Alberto Masserdotti, founder of DominoDisplay.com and CEO of Gruppo Masserdotti, whom we met at the inauguration of the group's new headquarters in Brescia. "Listening to the market's needs and constantly expanding our offering of professional video solutions are the primary drivers of our activity, which today bring us to launching new, optimized, turnkey packets that can easily be integrated with other digital signage solutions in our catalog. Our solid partnership with Samsung has offered us the possibility to seize the market trend towards solutions for mobility and virtual reality ahead of time, with offerings focused on facilitating public access to otherwise complex technologies," the young manager comments.


Seven "mobile" communication packets just a click away
The Mobility section currently contains seven technological offerings intended for as many types of use, accompanied by the add-ons Samsung Knox and Samsung Care, a data security system, user blocks and extended warranty. The "virtual reality" packet, composed of a visor, tablet, smartphone, 360° camera and app, allow commercial businesses such as real estate agencies to organize virtual tours of homes, while the "Restaurant" offering, made for the Horeca world but usable in all retail situations, includes a tablet, printer and integrated app.
For offices and the needs of business headquarters and directional centers, DominoDisplay.com has dedicated the "Enterprise Solution", which includes a Dex station and smartphone, transforming a phone into a PC. Equally efficient is the "Outdoor Tablet" collaboration packet, with an app dedicated to remotely programming meeting rooms. The wearable "No Badge" instead allows easy management (via smartwatch and the Artik system) of logging entrances and exits, turning lights on and off or opening doors and turnstiles. For more technical applications, on the other hand, the "Gravimetric Signature" and "Thermal camera" can be used, which include the Rugged Tablet and a smartphone with a thermal camera, respectively. They are useful for managing documents from filling them out to signing them, in the event of maintenance or deliveries, and identifying temperature problems.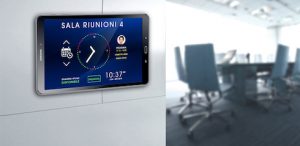 Immediacy and reliability approach end users
"The visual communication market is now characterized by the need for practical and immediately accessible solutions – underlines Masserdotti -. Domino Sistemi, like many other companies in the sector, has observed the gradual 'ascent' of the end client into contexts that just a few years ago were only accessible to workers in the AV world. An increasing trend that testifies to the immense power of the web in spreading products and digital technologies. We have happily observed that, despite the portal initially being addressed to resellers, DominoDisplay.com's offering is increasingly appreciated by direct clients, aware of the reliability and quality that distinguish solutions purchased on our site".
What, then, does the future of digital signage made by Domino Sistemi have in store? Alberto Masserdotti prefers to leave a bit of suspense about DominoDisplay.com's next steps, confirming that new and interesting exclusive bundled solutions will follow the first seven packets in the "Mobility" section in the coming months.
In the meanwhile, all that remains is to discover the Mobility offerings and all the company's other innovations at www.DominoDisplay.com.
This post is also available in: Italian
More from References
---
7
Important news from the German d&b audiotechnik brand, which enriches its loudspeaker systems family with the new 44S: high performance …