51
Sparkling Italian brand, based in Florence, Pequod Acoustics produces audio equipment for professional users and high-level audio lovers, launching new technologies and production techniques.
Pequod Acoustics is a beautiful and young Made in Italy reality, born as a research project dedicated to achieving the highest possible acoustic quality. Officially presented at the Prolight and Sound in Frankfurt, in April 2019, the company avails itself of the collaboration of many experts in loudspeaker components, composite construction and acoustics to offer in its catalog a range of loudspeakers that meet any need, in particularly in night clubs, discos and other prestigious places around the world.
"Pequod", as many readers will recall, is the name of the whaler who, under the command of Captain Ahab, sailed the seas in "Moby Dick" by Herman Melville. The choice of this name for the Florentine company is due to the desire to refer, as a model, to the dream stubbornly pursued by Captain Ahab, not alone but thanks to the skill of his crew and the best industrial technology of the time. In the same way, Pequod Acoustics rides the shared dream of a perfect sound, and around this brand the talents of a group of engineers come together willing to enter a new and unexplored acoustic territory, with products characterized by the quality of the Made in Italy of the high-end audio components.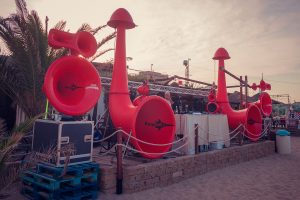 What, then, does the Pequod Acoustics catalog propose? Here, too, we find naval themes: the thin and composite shells of the speakers are made with the same very resistant materials used to build racing sailboats. The design and build quality are 100% Italian, the company's goals are luxury and exclusivity. Pequod products are characterized by sensual shapes, bright and lively colors (however customizable) with the possibility of adding logos and graphics, as well as creating video projections directly on the speaker bodies. After all, the visual impact is also important in the audio!
The names of the speaker series are also fascinating: from Cerberus to Hydra Super Sub, from Polyphemus to Ostro, how many cultured and mythological references! From complete systems (Shockwave, Polyphemus) to compact systems and monitors (Kona Storm, EP5 Twister, Ostro) up to subs (Cerberus, Ovoid, Borea and above all the highly original Hydra Super Sub, huge horn-loaded subwoofer that often dominates the scene in the installations), a catalog to be discovered for a brand that we will definitely be talking about again in the future.
This post is also available in: Italian