415
Launched on the occasion of ISE 2019, the two new product lines Ecler VIDEO and Ecler ACOUSTICS are now consolidated: they improve the company's offer especially in terms of AV integration.
The well-known Catalan brand Ecler, distributed in Italy by Exhibo, announces two new product lines: Ecler VIDEO and Ecler ACOUSTICS. The Ecler catalog is now particularly varied, including different technological product levels in order to offer installers and end users solutions as complete and efficient as possible, ranging from entry level (with an eye to the budget) to more articulated, ergonomic and sophisticated.
Ecler ACOUSTICS was created with the objective of audio excellence and acoustic comfort, as well as to plan and implement acoustic solutions that respect the most recent ecological considerations. The winning touch, finally, is the "point of views" acoustic panels collection, designed in collaboration with Luis Eslava: six different types of design for various applications in restaurants, offices, hotels, sports centers and classrooms.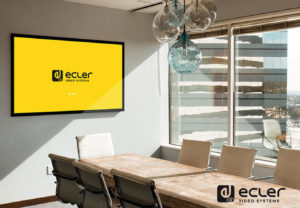 The Ecler VIDEO section, on the other hand, includes high-level solutions including HDMI management and distribution fulfilling the highest quality standards in the industry, up to 4K@60Hz/HDR/4:4:4, and smart integration with EclerNet hardware and User Control Panels (UCP) graphical control screens. Ecler background, focused on quality, reliability and integral support, from projects' consultancy to total technical assistance.
The objective, in short, is rather ambitious and consists in creating an integrated ecosystem of products that – under a single brand – offer professionals and customers simple but efficient solutions.
This post is also available in: Italian