101
The Diffrazioni Festival, organized by the Conservatory, has just taken place Florence, our city; an opportunity to think, once again, about the link among technology, contemporary art and poetic expression.
At the beginning of this text, we would like to first of all thank the companies that dedicated time, energy and their best products to make the works alive, during the Diffrazioni Festival: K-array, which provided the sound diffusion for the works planned at Murate and at the Abbey of San Miniato al Monte, Sony, with some VPL series video projectors for installation, EPA Sound with the sound system for the rooms dedicated to permanent multimedia installations, also at the Murate, and Maurizio Fontanelli of Iteck, rental company and System Integrator, which provided a complete set of displays and monitors.
Thanks to all of them if, from 26 to 30 March the city was able to appreciate the works and contributions of Esther Lamneck of the Department of Music and Performing Arts of the Steinhardt School in New York, but also the speeches on the future of Robotics by Professor Maria Chiara Carrozza of the Scuola Superiore di Sant'Anna, and the Lectio Magistralis by Piergiorgio Oddifreddi on Art, Mathematics, Science and Technology, and by Prof. Lamberto Maffei on Art, brain and creativity; we could enjoy again The Wasteland composition by Maestro Belfiore, inspired by the poem of T.S. Eliot, first performed 20 years ago and proposed in the frame of San Miniato al Monte, and of course the works of the students of the Conservatory, engaged in multimedia events, permanent mapping works and electro-acoustic music.
A thousand different occasions, from concerts, conferences, lectures and roundabouts, not only to better understand the link between technology, poetic production and expressiveness, but also to understand it through sensations and emotions.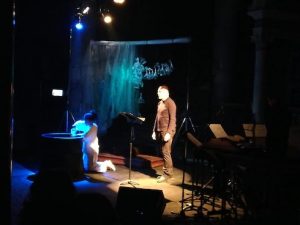 Diffrazioni – we are honored to be a media partner since 2017 – exists and continues to live thanks to the Luigi Cherubini Conservatory in Florence, to its students, to Maestro Belfiore, Professor of Electronic Music and coordinator of the Department of Music and New Technologies, but also thanks to the contribution of many local realities and its sponsors.
The Festival will return to relive next year, while waiting to see the video and comments on the Festival (and Connessioni) social channels.
www.diffrazionifestival.com
www.facebook.com/DiffrazioniFirenzeMultimediaFestivalOfficial
This post is also available in: Italian