222
Important news from the German d&b audiotechnik brand, which enriches its loudspeaker systems family with the new 44S: high performance and flexibility even in flush-mounted format.
This September, the launch of the new 44S speakers by d&b audiotechnik is among the most interesting news. This is an innovative speaker system that expands the German company offer, bringing the high performance of d&b products even in a flush-mounted product, as well as in numerous other ways.
The new 44S system offers high directivity, with the ability to produce 121dB of maximum SPL (if driven by 10D installation amplifier) and 123dB in combination with the more powerful 30D and D80 amplifiers. 44S is therefore designed to ensure the maximum possible performance in this particular segment of applications, both fixed and mobile. The remarkable waveguide and the particular front surface give the new 44S a high directivity that minimizes interference between systems positioned very close to each other.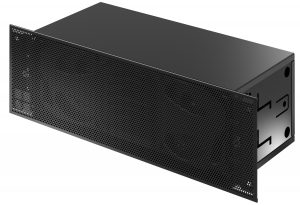 The cabinet, in injection-molded structural resin, allows you to set inclinations between +/– 20°, so that users can have an adequate adjustment to the different heights of the listening surfaces. However, it's not just a powerful system. 44S has an unprecedented asymmetrical shape of the cabinet that increases the possibilities of integration, while the small dimensions (128 x 390 x 150 mm) allow it to be positioned even where most professional speakers do not fit: under practicable spaces, modular stages and balconies, at the edge of the proscenium, between the steps of a staircase – even recessed, in walls, false ceilings, and partitions, thanks to a special metal box.
In summary, this new two-way, mono-amplified passive speaker system incorporates two 4.5" low frequency neodymium speakers and two 1.25" high frequency dome tweeters, and is capable of delivering a response range between 90Hz and 17kHz.
Wolfgang Schulz, d&b product manager, expresses the company's satisfaction with the new product: "For audio professionals who want to win the challenge imposed by size, architectural needs and aesthetic constraints" – said Schulz – "the 44S loudspeaker system represents a powerful, compact solution, suitable for flush mounting, in as varied environments as possible. Faced with the epochal challenges of this period, we believe it's more important than ever to be able to offer multipurpose solutions of maximum flexibility, for a range of applications that has never been so broad."
This post is also available in: Italian