131
"Double stand" for d&b audiotechnik at ISE 2020, with a part entirely dedicated to the corporate philosophy (with demos and full immersion in technology) and a more "classic" one, dedicated to product innovations, which were not few…
The approach chosen by d&b audiotechnik for ISE 2020 has been characterized by diversification: on the one hand, a sort of corporate "resumé", with a demo room built to retrace the last twenty years of audio technology; on the other hand, the presentation on the European market of new products and new series.
Let's start with the news, thanks to the words of Alessandro Bertoni, Sales Engineer of d&b audiotechnik Italia: "In our stand at ISE" – he told us – "the main focus, as regards the products, was the new installation version of the SL series line array. This series was already characterized by completely cardioid modules, and by the attention to directivity and control of sound energy. With the new KSLi (the "i" means Installation), the SL series goes a step further: we offer totally controlled line array systems also in the low range. Together with a dedicated subwoofer, presented for Europe precisely at ISE 2020, the SL series becomes even more suitable for various applications in medium or medium-large high-level spaces (clubbing, performing arts, churches) with obvious advantages in terms of directivity control."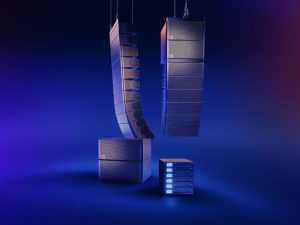 If the new KSLi was the flagship novelty, there was similar interest around the European preview of the A series, presented in 2019 but now also landed in Europe. "A Series" – explains Alessandro Bertoni – "is a hybrid between advanced point source and fixed curvature arrays. The correct definition would be Augmented Array: conceptually, it's a fixed curvature array, but with variable coupling angles. The shape of the waveguide allows different coupling angles without distortion. In addition, the array processing here is applied in a slightly lighter and more elastic way."
To conclude this roundup, the new 40D amplifier, presented as a preview, which should open up to a new and wider amplification platform which will inspire the next news from d&b audiotechnik.
Also present at ISE 2020 is the d&b team for product customization ( painting treatments, rigging etc.), to provide the most suitable solutions for each environment. And, to conclude, the planned implementation of the Milan protocol, is also worth mentioning.

This protocol for audio distribution will guarantee interoperability between the devices and will ensure higher levels of convenience, reliability and functionality. d&b audiotechnik is already planning the implementation of this new protocol on some of its products, even if the works are still in progress… All Alessandro Bertoni has been able to tell us is that "there are products on which the port enabled for the Milan protocol will be native, as a standard. The development of this protocol concerns us closely, we are one of the companies that, together with others, are taking care of testing and implementing it."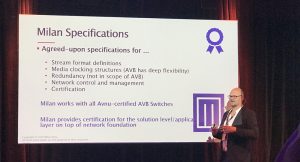 But, at the end, how was this ISE 2020, the last one in Amsterdam? "For us I would say very well" – concludes Bertoni. "Despite the adversities, with canceled flights and bad weather conditions, the turnout was good, and the demo part of our stand met with undoubted approval. Thanks to it, we were able to tell visitors why d&b audiotechnik's 'obsession' with sound directivity, which is part of our philosophy of simplifying work for sound engineers and musicians, and for creating the best outdoor applications. We managed to take visitors beyond products, and we were able to explain why we decided to design and build them in one way rather than another."
In short, the philosophy of technology in one of the most complete stands of the fair..
This post is also available in: Italian