129
The CURV 500 array system by LD Systems, a brand distributed by the Adam Hall Group, was chosen for the sound of the ancient Basilica de Nuestra Señora de la Asunción in Colmenar Viejo, north of Madrid.
Like most Gothic churches, the Basilica of Nuestra Señora de la Asunción casts an impressive silhouette. The Spanish house of worship was built in the 15th century in Colmenar Viejo, north of Madrid, and impressing visitors with its massive pillars, its august main altar in the Renaissance style and its 50-metre-high church tower. Not a simple set-up for Audiovisuales Sanser, the integrator with providing a sound system for the vast interior. Following meticulous analysis and planning, project leader Carlos Serna's team decided to collaborate with the Adam Hall Group and install a LD Systems CURV 500 array system.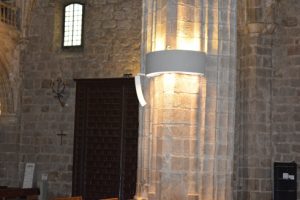 Almost every church offers unfavorable conditions for an electro-acoustic sound system: the hard stone surfaces reflect sound in ways that are difficult to control and which result in long reverberations, thereby making it extremely difficult to provide precise sound through the speakers. At the same time, the speakers must be discreetly installed into the church surroundings, so as not to disturb prayers or distract the congregation.
The CURV 500 facilitates excellent speech intelligibility for worship services as well as a natural and powerful music reproduction for concerts. The Audiovisuales Sanser team installed a total of 84 CURV 500 S2 array satellites in white on the stone pillars of the church building, with the S2 satellites arranged in eight clusters of six and twelve clusters of three.


While the larger array targets the central area, the triple array covers the side areas of the church. Four CURV 500 iSUB 10" installation subwoofers provide sufficient bass reinforcement in front of the altar and in the choir area at the back. Additional CURV 500 S2 array satellites act as monitoring in the control room and for the choir. The entire system is driven by five CURV 500 iAMP 4-channel Class-D installation power amplifiers.
All the hard work has paid off: since the spring of this year, worship services and concerts in the basilica of Asunción de Nuestra Señora have been blessed with a heavenly sound.
www.adamhall.com
www.ld-systems.com
This post is also available in: Italian