92
The entire portfolio of Flex United solutions for collaboration and communication is now available on the market: a decisive breakthrough for Crestron for a more productive and stress-free user experience.
Crestron, a well-known trademark in workplace technology, announced it is now shipping its complete portfolio of Crestron Flex Unified Communications & Collaboration solutions. Crestron Flex clears the way to more productive, stress-free days by providing a simple, consistent user experience in all the places people work and meet, from desks to boardrooms. Crestron Flex provides a native Microsoft Teams, Skype for Business, and Zoom Rooms software experience, including one-touch join.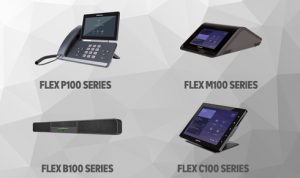 Crestron Flex solutions come in several forms, but all deliver the same experience, regardless of the space in which they're deployed.
Crestron Flex P100 is a series of voice-over-IP desk phone. It delivers the Microsoft Teams or Skype for Business experience to users of desktop phones. It features a large touch screen that provides convenient tools that connect you to your calendar and coworkers, right at your desk.
Crestron Flex B100 Series, with a practical, wall-mount sound bar design, delivers clear audio with a beam forming microphone array and an integrated 4K camera. A front of room solution for Microsoft Teams, Skype for Business, or Zoom Rooms, the B100 Series pairs with a 10" touch screen to deliver a simple, intuitive in-room user experience.
Crestron Flex M100 Series is a tabletop solution that provides everything you need to instantly and securely call, present, and videoconference using Microsoft Teams, Skype for Business, or Zoom Rooms software. An included 4K camera provides auto-zoom, people-counting, and lifelike image. The premier audio performance is delivered via the incorporated four-microphone 360-degree array.
Finally, Crestron Flex C100 Series is a flexible, integrated UC kit that brings one-touch join to even the most custom spaces. It natively supports Microsoft Teams, Skype for Business, or Zoom Rooms, and includes an optional certified UC DSP and ceiling tile microphone array
Crestron Flex solutions benefit from zero-touch deployment via the Crestron XiO Cloud platform.
www.crestron.com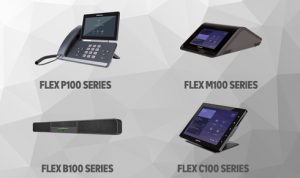 This post is also available in: Italian