123
QVision chose Claypaky moving heads to light up the live broadcast ceremony of the FIFA Arab Cup Qatar 2021 draw.
Qatar Vision Company (Qvision), an event management and multimedia creative production company, organized the live broadcast of the FIFA Arab Cup Qatar 2021 draw. Held on April 27 at the Katara Opera House in Doha, the ceremony was illuminated by a large fleet of Claypaky fixtures, in particular Scenius Unico, Sharpy Plus, Hepikos and A.leda B-EYE K20 CC moving heads.

The event determined the schedule of matches for the teams participating in the Arab Cup 2021, which will be held in December. The Arab Cup represents an important opportunity to test the facilities that will host the FIFA World Cup in 2022, the first to be held in the Middle East and the Arab world.
The Arab Cup draw took place according to strict anti-covid protocols; Qvision was responsible for the set design, rigging, lighting, audio, video, visual and motion graphics content deployed for the ceremony. Sharif Hashisho, managing director of QVision, and his team have created an impressive show for both guests attending the Katara Opera House and those connected remotely, as well as for the worldwide television audience.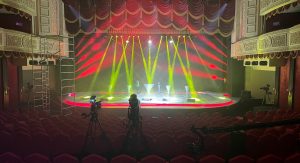 The stage was equipped with a 117 square meter high resolution LED video wall backdrop with an additional 70 square meters of LEDs left and right to display animations and broadcast the live feed. A series of Claypaky fixtures illuminated the set. Lighting Designers Mohammad Assaf and Mark Anton chose 20 Scenius Unico moving heads to illuminate the ampoules of the draw, as well as the orchestra and lecterns. Forty A.leda B-EYE K20 CC moving heads illuminated the entire stage to meet the broadcasting requirements of the show. Finally, 40 Sharpy Plus and 20 Hepikos moving heads created light beams to create audience engagement.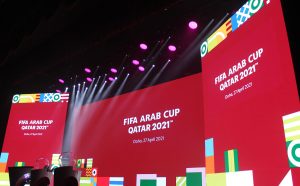 "Claypaky has a wide range of products suitable for any type of light show, whether it's a stadium ceremony, corporate event, small event or wedding", said Hashisho as Executive Producer and Artistic Director of the event. "Claypaky fixtures are very reliable products and offer particularly bright lights, perfect for even large-scale events."
Kick off, the tournament can begin!
This post is also available in: Italian