154
As a reaction to the cancellation of numerous tradeshows and the restrictions imposed by the Covid-19 pandemic, Clay Paky inaugurated its "virtual booth", where you can view company news as if you were at a demonstration open to the public.
A brilliant and very simple idea: a virtual booth where visitors, with a simple registration, can move and view all the product news, but not only, they can also get in touch with the Clay Paky world. In short, everything that would be done at tradeshows and industry events is now possible within this virtual booth.
An undoubtedly intelligent and practical solution to remedy the social distancing imposed by Covid-19. The booth is divided into simple areas within which you can move at 360-degrees, like in Google Maps photos.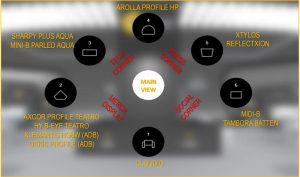 At the beginning, simply register to log in. Subsequently, navigation in the virtual space is very simple and immediate, and offers both the possibility to see the products and to request information.
Thanks to some simple "corners" you can access the different areas in which the stand is structured. For example, in the Tech Corner you can easily view a series of product presentation or technical in-depth videos, as well as tutorials and guides to product upgrades. In the Merchandising Corner all the Clay Paky brand merchandising items are available (just those that are usually found at fairs and events!), while in the Press Corner you can consult and download press releases and press kits relating to the various news.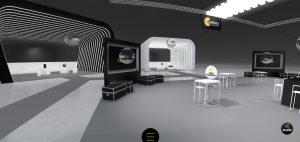 Several thematic areas are then dedicated to the main innovations, from CloudIO to the Mini-B line, from Axcor LEDs to Sharpy Plus hybrid units. For each product you can watch a demonstration video, download a data sheet, view a 3D model that can be 360° rotated and, if there were still curiosities, request further information.
In short, there are no reasons not to visit Clay Paky Virtual from the comfort of your desk, just with your mouse: a fair where no one has to measure the temperature and you don't need to wear masks or gloves!
www.claypaky.it
www.claypakyvirtual.com
This post is also available in: Italian