208
News from Christie: the flat-panel LCD range is enriched with new TAA-compliant models, which offer superior performance for control rooms and business applications.
Stackable frame from 0,44/0,88 mm and professional displays ranging from 55" to 98" in size, with 500-nit brightness: these are the essential features of Christie's flat-panel LCD range products. The two new 55" Extreme Series flat-screen models launched by Christie, thanks to TAA compliance and 4K@60Hz, are proposed as winning cards for military and government installations, utility and mission-critical control rooms, as well as for the video wall optimization.
The flagship of Christie's Extreme Series is the FHD554-XZ-H, equipped – like its twin HR – with HDMI 2.0 connectivity, HDCP 2.2 and an OPS slot to receive a variety of processing modules including Christie Phoenix EP. In short, for those who want an ultra-thin profile, explicitly designed for video walls, the FHD554-XZ-H and FHD554-XZ-HR models, combined with the ML25 mounting accessory, are an ideal solution, with a total depth of less than four inches.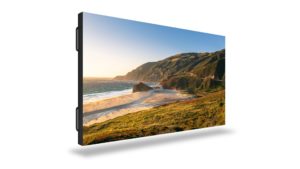 Furthermore, TAA compliance has also been attributed to the SUHD983-P flat screen of the Secure Series, a 98" model that can be installed in vertical or horizontal mode and allows content to be displayed simultaneously in four separate windows, making it ideal for collaboration rooms and visualization laboratories.
"The new FHD554-XZ-H/HR models feature Christie's latest-generation modular LCD technology with the latest evolution of the combined frame and a platform that further improves the performance of our modular LCD solutions", said John Dixon, Christie's senior product manager. "In addition to improving the viewing platform and the frame, improvements in optical properties and mechanical strength are also noteworthy. We expect that our control room and digital signage customers will especially appreciate the thinness of the frame."
Both the 55" modular panels and the 98" SUHD983-P will be on the market starting from January 2020 with a three-year warranty.
This post is also available in: Italian