108
It's called Alpha Foxtrot, and it was the last Concorde to be built and the last to sail the skies. The main attraction of the new Aerospace Bristol Museum, in Filton, Alpha Foxtrot is also the "screen" of a fascinating projection by Christie
Concorde is a true technological myth. Has there ever been such a beautiful and elegant means of mass transportation? It's also capable of traveling at twice the speed of sound. An entire era in the history of transport is linked to Concorde. Alpha Foxtrot is the last of the Concordes: the last to be built and the last to fly. Today, it represents its species, in the new Aerospace Bristol Museum, in Filton, where the Concordes were developed and produced.
To tell the story of Alpha Foxtrot and that of his brothers, Gavin MacArthur, creative director of Projection Artworks, created three animations, which are projected onto the sides of the aircraft by four Christie D13WU-HS laser projectors.
The projections "animate" the cockpit of the plane and recall its history. "The first video is about making the Concorde", explains Gavin MacArthur. "Our goal was to capture the story, the challenge of the project and the impressive engineering feat."
The second chapter concerns technical design. "There were so many technical obstacles to overcome!" – recalls MacArthur. "It started from scratch. From the cooling system to the power: many things that had to be designed and tested."
The third and final chapter focuses on the emotions of those involved in the construction and management of Concorde: pilots, engineers and technicians who physically built the aircraft. "Everyone is emotionally involved. In this hangar, the Concorde is the only airplane on display. In short, he is the hero and our creativity is at the center of all this", concludes Gavin MacArthur.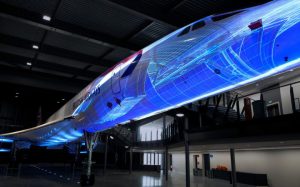 More than 150.000 visitors have passed through Aerospace Bristol doors so far in the first ten months: Alpha Foxtrot continues to fascinate, even forty years after its first flight and even now that it's forced to land. The perfect forms, the futuristic technology, whose value is still fully perceptible, and – why not? – even the projection, with its colors and its forms, every day revitalize this monument of human intelligence.
This post is also available in: Italian