34
When you have little space, you have to use flat projectors: the Cameo proposal is called FLAT Pro G2, a new series of projectors designed to enter any space and… save the situation!
The Cameo brand (distributed by Adam Hall Group) is well known on the one hand for the breadth of its catalogue, which offers projectors for all needs and tastes, and on the other for its high level of innovation. The latest novelty is called FLAT Pro G2 Series, and includes proposals explicitly designed to bring the best possible lighting even in confined spaces.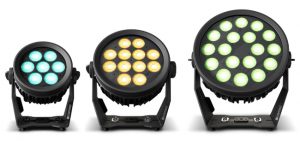 First of all, a general overview of the series: these are LED PAR projectors, with RGBWA colour mix and high repetition rate, available in three variants: 7, 12 and 18 10-watt LEDs, particularly bright. The name of the products helps to orientate in the choice, since it shows the number of LEDs foreseen by the model. For example, Flat Pro 7G2 has 7 LED lights, while Flat Pro 18 G2 offers almost triple. The G2 series offers projectors for both indoor and outdoor applications, with the appropriate versions boasting IP65 protection class. All models are distinguished by a very silent operation, thanks to the convection cooling system obtained.
The standard equipment of each model includes, among other things, numerous functions, integrated programs, DMX control, Sound Control and a versatile mounting bracket: all elements that make these projectors real plug & play solutions, easy to install and with high performance. The Flood IP65 model also features optional barn doors, i.e. special deflectors with four directional blades to better shape the light beam.
Thanks to the patented EZChase® (DMX Delay) feature, you can create sequential lights even without external control, saving not only DMX channels, but also time and hassle.
Optimized the design of the series in several places. The handle, for example, is now integrated invisibly into the metal housing.
It can optionally be retrofitted with a 16 mm folding TV plug-in shank based on patented SPIN16® technology.
FLAT PRO 18 G2, 18 LED 10 W RGBWA Outdoor Spotlight projector;
FLAT PRO 12 G2, 12 LED 10 W Outdoor Spotlight projector;
FLAT PRO 7 G2, 7 LED 10 W Outdoor Spotlight;
FLAT PRO 7 SPOT, very compact, flat, Spot type projector with 7 Quad-LED 15W;
FLAT PRO 7 XS, 7 x 8W Quad-LED PAR projector, flat and compact.
The Cameo brand is distributed by Adam Hall Group.
www.adamhall.com
www.cameolight.com
This post is also available in: Italian