All-in-one USB audio conferencing device, Bose Videobar VB1 delivers high-quality audio and video in environments ranging from huddle rooms to mid-sized conference rooms.
If the need is to create video conferences with high audio and video quality in any location, from small "improvised" rooms to medium-sized conference rooms, the solution is called Bose Videobar VB1: all-in-one USB conference device that guarantees high visual quality and high audio intelligibility.
At the base of the product, six microphones in beam steering technology, able to concentrate the acquisition on the voices in the room, eliminating background noises. In addition, the Auto EQ function ensures optimized sound for all participants, while the proprietary Bose audio technology supports multimedia presentations on the most popular Unified Communications platforms, such as Microsoft Teams, Google Meet and Zoom, and allows Bluetooth audio playback, ensuring voices during the meeting sound very natural and easy to understand.
As for the video, the integrated 4K Ultra HD video camera with autoframing offers high video quality, important to allow remote participants to follow the meeting as if they were in the same room, perfectly seeing the speaker, the whiteboard, the flipchart and other objects in the room. Also in terms of construction, the Bose Videobar VB1 offers innovative solutions: in fact, thanks to the single cable connection, it's not necessary to have separate audio and video sections and it's possible to reduce the clutter on the meeting room table. Not only that: the Videobar VB1 can be easily installed thanks to the table stand and the wall mounting kit (included), or with the wall cable box and the screen fixing kit (optional) and can be configured with very simple procedures, thanks to Bose Work Configuration software, all in the logic of making meetings more effective, incisive and easier to follow.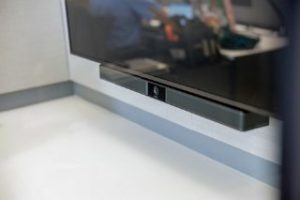 Finally, the icing on the cake are the possibility of remote management, with the Bose Work Management software that displays the status in real time and allows changes to a single unit or the entire system, and the elegant design typical of Bose, which integrates seamlessly into any environment without damaging its aesthetics. The Bose Work mobile app also allows you to control settings in real time via smartphone, with the ability to adjust the volume, mute the microphone and access the pan, tilt, zoom, preset and Bluetooth pairing functions.
In short, Bose Videobar VB1 seems to have been created to simplify, without sacrificing audio and video quality, the organization of meetings, also and above all in a hybrid style.