133
The new Bose Videobar VB1™ is an all-in-one USB conferencing device that delivers premium audio and video in a variety of business environments, from huddle spaces to medium-sized rooms
Over the past year, hybrid business models have established themselves more and more, and this has happened faster than we could ever have imagined. If certain measures to combat infections, from masks to social distancing, are destined sooner or later to disappear, the same cannot be said of hybrid work which, after a period of inevitable adjustment, has shown a series of advantages and opportunities which companies are unlikely to give up.

In this logic, Bose Professional has launched the Videobar VB1, an all-in-one USB conferencing device for meeting rooms of different sizes that allows users to have the well-known Bose audio quality combined with the video signal for remote conferencing. Thanks to six microphones equipped with beam steering technology, which actively focus on the voices in the surrounding environment, eliminating background noise, and thanks to the proprietary Bose transducers that reproduce the sound in a very accurate way, VB1 guarantees the perfect intelligibility of the voice, also through Bluetooth audio. The 4K Ultra HD camera with auto-framing does the rest, offering high video quality that ensures remote participants have an accurate view of the speakers, as well as any meeting notes and other objects in the room. The single-cable USB-C connection avoids the need for separate audio and video cables, reducing clutter.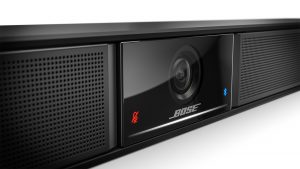 Bose Videobar VB1 is also easy to install, thanks to the included table stand and wall mounting kit. Alternatively, there is also an optional mounting accessory with VESA attachment. All mounting options allow you to tilt the Bose Videobar VB1 as needed, to best centre the video image. The Bose Videobar VB1 connects to your existing network infrastructure, integrating with popular third-party cloud services, including Microsoft Teams, Google Hangouts Meet, Zoom and more.
The remote configuration and management features simplify use, whether it is managing a single unit, or whether it is necessary to manage hundreds of them in meeting rooms scattered throughout a corporate office or university campus. The Bose Work Configurator utility, available as an app or web browser, helps configure the Videobar, while remote management can be done via the Bose Work Management app, which displays real-time status and allows for simple changes to a single unit, or to the whole system. This app also allows you to adjust the volume, mute the microphone and access the camera functions (pan, tilt, zoom, pre-set and Bluetooth.) Finally, via Bluetooth connectivity, users have the option of connecting a smartphone to use the VB1 video bar with the hands-free function or to stream music.
This post is also available in: Italian