26
With an exclusive online event held on April 29, Bose Professional launched four new suspension models of the well-known DesignMax line, designed to optimize the sound in any environment, even outdoors.
The idea is to offer designers and installers always new options and possibilities: this is why the new DesignMax pendant speakers also include an outdoor model, in order to meet all installation needs. There are four new models (the DM3P and DM5P indoor speakers, the DM6PE certified outdoor speaker and, finally, the DM10P-SUB subwoofer) and we met them during the online presentation of April 29th. Doing the honours for Bose Professional was Justin O'Connor, Installed Sound Category Marketing Manager, supported in the technical presentation by Andy Kyte, Installed Sound Product Manager and Adam Shulman, Market Category Lead for Installed Sound.
Bose experts explained the evolution of the DesignMax family, first introduced in 2019, which now confirms its vocation as a complete line of two-way coaxial speakers and subwoofers for any environment (shops, restaurants, hotels and convention centers), with intense bass and crisp highs and intelligible both indoors and outdoors, thanks to the high SPL compression driver models, the compact systems for more intimate spaces and the various certified options for outdoors (IP55). All models can be combined with DSPs and dedicated Bose amplifiers for Bose Loudspeaker EQ and SmartBass processing, thus expanding performance and response at any listening level.
Ideal for open ceiling installations, each unit offers an elegant design and a single recessed attachment point, allowing you to conceal hardware components and accommodate an easy-to-access service cable. In addition, the DM3P, DM5P and DM6PE pendant speakers are all equipped with the Bose Dispersion Alignment system, which guarantees a consistent listening experience throughout the room by adapting the woofer coverage to the tweeter pattern. Let's take a closer look at the new models.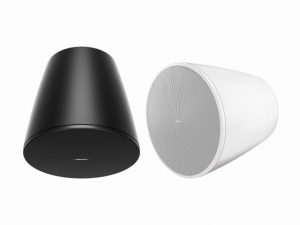 DesignMax DM3P pendant speaker
The 30W DesignMax DM3P model has two-way coaxial drivers, with two-way 3.25" woofer and 0.75" coaxial tweeter integrated into the Bose Dispersion Alignment system. It develops a frequency range between 75Hz and 20kHz.
DesignMax DM5P pendant speaker
The new 60W DesignMax DM5P is a two-way coaxial suspension loudspeaker with 5.25" woofer and 1" tweeter integrated into the Bose Dispersion Alignment system, which develops a frequency range between 65 Hz and 20 kHz.
DesignMax DM6PE pendant speaker certified for outdoor use
The 125W DesignMax DM6PE is a two-way coaxial pendant speaker with IP55 rating for outdoor use. It uses a 6.5" woofer and a 1.25" tweeter integrated into the Dispersion Alignment system and develops a frequency range from 62 Hz to 20 kHz.
DesignMax DM10P-SUB Subwoofer
Complementing the new models, the DesignMax DM10P-SUB subwoofer is designed for bass in a wide variety of commercial systems. The 300 W model is equipped with a 10" woofer and develops a frequency range from 40 Hz to 125 Hz.
After the addition of these four models, designers can use 16 DesignMax series products to create complete and customized solutions for background and foreground audio applications. Each solution is characterized by grids with thin bezels, removable logos and an elegant design. Bose launched the black and white versions, but the new diffusers can also be painted.
DM3P and DM5P are already available in many countries, while DM6PE and DM10-SUB will be available soon.
This post is also available in: Italian