Bose and Lenovo, have announced a new collaboration aimed at further developing the technological side of modern meeting rooms, to simplify collaboration in the business environment and beyond.
After Barco and HP, another very important brand joins Bose Work Technology partners: Lenovo, with a collaboration that enables advanced one-touch conferencing solutions for a wide range of meeting room configurations. The idea is to better meet the needs of hybrid work, in presence and remotely, which has established itself over the last year.
With Bose Work solutions, such as the Videobar VB1 all-in-one USB conferencing device and the ES1 and DS4 Ceiling Audio systems, conferences can benefit from premium sound quality coupled with remarkable ease of use. The collaboration with Lenovo allows Bose Work products to work together with the Lenovo ThinkSmart Core + Controller solution in Microsoft Teams Rooms, simplifying meetings with one-touch controls.
ThinkSmart Core is Lenovo's first specially designed modular meeting room kit with a new, more compact design and Premium ID. The ThinkSmart Core processing unit is based on an 11th generation Intel Core vPro processor and paired with the ThinkSmart Controller, a 10.1" touch screen with USB-C technology, will be certified for Microsoft Teams Rooms.
In a number of different environments, from huddle rooms to medium-sized rooms, the Lenovo ThinkSmart Core + Controller solution can be combined with Bose Videobar VB1 for premium audio and video quality, ensuring complete, seamless control and processing. For larger meeting rooms, you can use Lenovo ThinkSmart Core + Controller with the Bose ES1 or DS4 Ceiling Audio solutions, which utilises a Sennheiser TeamConnect 2 ceiling microphone and offers very clean and intelligible audio, ideal even in case of hybrid meetings, with remote participants. By combining the ThinkSmart Core + Controller package, users also have a simple and effective one-touch interface available.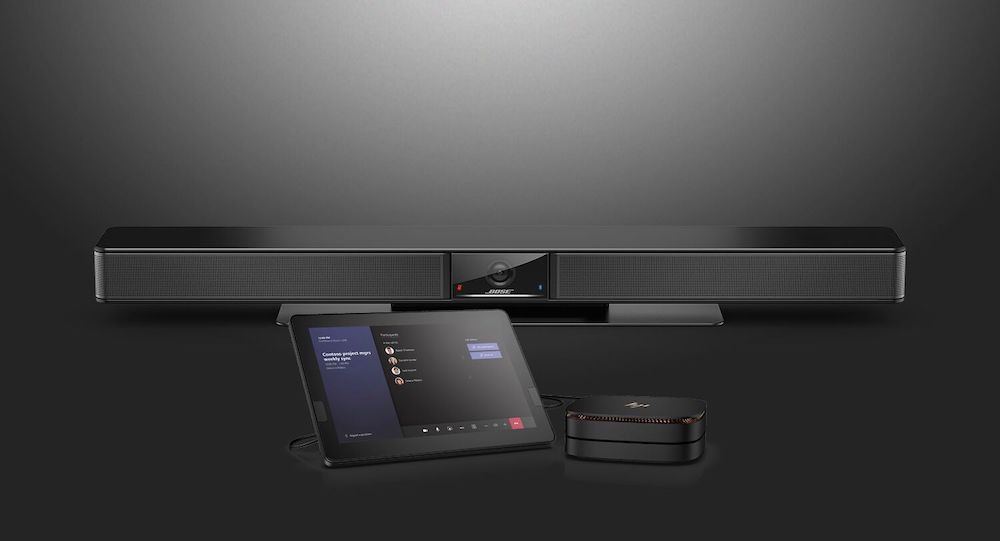 Bose, as we said at the beginning, collaborates with several industry leaders to promote interoperability and offer the best Unified Communications solutions. The Videobar VB1, ES1 and DS4 Ceiling Solutions canalso be combined with HP Elite Slice G2 – Audio Ready for Microsoft Teams Rooms or Zoom Rooms which, to ensure the management and functionality required in the most diverse spaces, offers a large anti-glare screen and one-touch capacitive controls, plus on-demand calls, two viewing angles and access flexibility.
Finally, the Bose Videobar VB1, ES1 and DS4 Ceiling Solutions are ClickShare certified and therefore ensures interoperability even with Barco technology, a fundamental brand in the field of wireless technology. Pairing a Clickshare Conference system with Bose Work Solutions reduces the need for cabling in meeting rooms and allows you to start meetings by pressing just a button.
The Bose Videobar VB1 can also be used in a Bring Your Own Device set up, through a single USB cable. In short, for an increasingly hybrid work environment, Bose Work has a range of solutions and collaborations for all conferencing needs.
pro.bose.com/bosework
pro.bose.com/lenovo
pro.bose.com/hpvb1
pro.bose.com/hpes1
pro.bose.com/barcovb1