163
A stand really full of news for the Biamp brand, in Amsterdam! Here, in a quick overview, the most interesting, which we will certainly deepen in the coming weeks
In the short space available, it's impossible to offer a detailed description of all the innovations brought by Biamp to ISE 2020. We can, however, take a quick look, reserving further insights for the future.
Let's start from the Community LVH-900 Beamforming Venue Horn that provides the highest output, widest bandwidth, and most consistent coverage of any large format point source loudspeaker on the market.
Designed for both music and speech reproduction and available in indoor and outdoor models, the LVH-900 is engineered to serve as a primary loudspeaker for arenas, theaters, stadiums, houses of worship, and other large venues. Each LVH-900 loudspeaker consists of four 12-inch LF drivers, three Biamp Community M200 midrange compression drivers, and four 1.5-inch HF compression drivers. The LVH-900 will be available in the second quarter of 2020.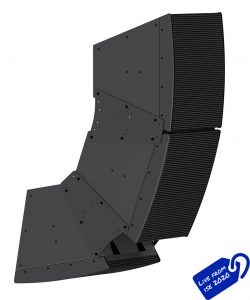 Another novelty from ISE 2020 is TEC-X, a family of easy-to-use, elegant wall and table controllers. The TEC-X family includes two models: the TEC-X 1000 and TEC-X 2000. The TEC-X 1000 combines a rotary encoder and small touchscreen. The control pad can be programmed to display a variety of button layouts that can initiate virtually any action desired. The large, weighted rotary encoder is designed to be instantly recognizable to end-users as a volume control but can be programmed for any purpose.
The rotary can be pushed to select for one additional button to those displayed on the screen. For applications that require more buttons, the TEC-X 2000 features a larger touchscreen in lieu of the rotary encoder. It can be programmed with a variety of layouts that feature up to 12 touch buttons. Both options are PoE-powered to simplify installation cabling, and up to four controllers can be daisy-chained to support environments that require multiple devices. TEC-X control pads will be available in the second quarter of 2020.
And here we are at the launch of Crowd Mics Online at ISE 2020. Crowd Mics transforms every smartphone into a personal microphone and interactive response system via a free iOS or Android app. Now, Biamp is extending the use of Crowd Mics to remote locations. With Crowd Mics Online, geographically diverse audience members can use their smartphones to connect with the event presenter as if they were in the same room. Crowd Mics is the premier audience engagement solution for presentations, lectures, panel discussions, and other live events, allowing presenters and attendees to connect on a personal level. Moderators always maintain full control over the conversation via the moderator interface. Crowd Mics Online enables full bi-directional functionality between remote participants and the Crowd Mic's host device, so attendees anywhere can ask questions by voice or text and participate in real-time polls via their smartphones.

Another great novelty of this ISE 2020, the new TesiraCONNECT TC-5D. The new dual network device allows designers to seamlessly incorporate both AVB and Dante into their AV solutions. TesiraCONNECT TC-5D features the same plug and play simplicity of the recently introduced TC-5 connectivity appliance and adds the interoperability of Dante. With the TC-5D, designers and integrators can easily connect and power via PoE+ both Dante and Biamp AVB devices in the same system with no configuration required. The new TC-5D is designed to support a range of use cases, from customers utilizing a Dante enterprise backbone to bridge multiple Biamp conference rooms together, to solutions that need to combine Biamp Tesira products with common Dante devices such as mixing consoles or wireless microphone systems. Both TC-5D and the existing TC-5 model come with five network connections, four of which are PoE+-powered RJ-45 ports that support single-cable connectivity. An additional unpowered RJ-45 port is included to easily pass all signals back to a Tesira DSP such as the TesiraFORTÉ. For more complex installations requiring greater port capacity, integrators can daisy-chain up to four TesiraCONNECT devices. The TesiraCONNECT TC-5D will be available in the third quarter of 2020.
Finally, the latest product news, the PREZONE2 dual-zone stereo preamplifier and the P30DT 4,25", two-way pendant loudspeaker, both designed for ease of use and exceptional music reproduction in retail and hospitality applications.
The PREZONE2 empowers end users to intuitively control audio source selection and volume across two audio zones, while the P30DT adds even more design flexibility to Biamp's already expansive loudspeaker catalog by providing designers and integrators with a smaller pendant loudspeaker ideal for venues where aesthetics and audio quality are of equal importance. The PREZONE2 is now shipping, and the P30DT will begin shipping in Q2 2020.
In occasion of ISE 2020, Biamp also announced it has entered into a definitive agreement to acquire Huddle Room Technology (HRT) based in Modena, Italy. HRT is a leader in wireless USB technology that powers its products and improves the user experience in bring-your-own-device (BYOD) spaces. Its flagship product, the Huddle Hub, allows computers and mobile devices to connect to room peripherals including displays, speakers, microphones, and cameras without any physical connection.
Unlike others wireless USB solutions, the Huddle Hub adds multi-user screen sharing, which allows several users to share content to the room display simultaneously. Newly announced and exhibited at ISE, is the corporate Cloud-based version of Biamp HRT's collaboration technology, Huddle Hub Enterprise (HH Enterprise). A single HH Enterprise device can host six simultaneous meetings with up to 150 total participants.
This post is also available in: Italian