83
The success of the Chinese show ended on April 13th highlighted interesting technological challenges that bring professionals and the AV market closer to the last frontiers of integration based on smart and connected systems.
Networked audio over IP, and artificial intelligence, Internet of Things (IoT), virtual reality, augmented reality and smart technologies – components that digitally enhance pro-AV and Integrated Communications solutions – featured strongly in discussions and exchanges at this year's Beijing InfoComm China. We analyzed the 2018 edition trends and evolution strategies with Richard Tan, Executive Director of InfoCommAsia, who considers BJ IFC the future reference point of the Smart and Connected AV sector.
Connessioni – IFC 2018 was a big success, can you summarize the most important "figures and facts" of this edition?
RT – The 2018 edition of Beijing InfoComm China welcomed a total of 38,809 local and overseas visitors – an increase of 21% from previous year's visitor traffic. The exhibition showcased a total of over 350 exhibitors, including 56 who participated for the first time. 72 new-to-China and new-to-world products were launched at the Show. 5,456 delegates (9% increase from 2017) attended close to 60 free-to-attend Summit education sessions.
C – What have been the new elements and projects of IFC 2018?
RT – Over the last four years, we have organized conferences every year on topics like Artificial Intelligence, IoT and Robotics as we believe these technology sets are important in the next phase of elevating AV to the next level of applications. The conferences started a dialogue on this topic among all the attendees and exhibitors at the show and in the last two years we have begun to see exhibitors showcasing dedicated AI, robotics and IoT technologies. This year, we many more of such exhibitors participating at the show and it's helping to evolve BJ IFC into becoming a show about Smart and Connected AV. I believe this is the only AV show in the world today that is evolving in this way to address the future needs of the industry.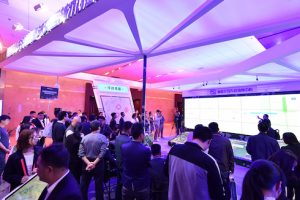 C – Was the international presence important in the show?
RT – Yes, the presence of international exhibitors is important to the show as BJ IFC is positioned to be a global showcase of Smart and Connected AV technologies for the Asian market.
C – In European shows end users and vertical market attendance are more and more important, is that the same for asian shows and the related industry?
I believe BJ IFC was actually the first show to identify the need to bring not just more vertical market end-users to meet with exhibitors, but also the IT channel. We started more than five years ago to engage these sectors and at last year's BJ IFC – 28% of the 32,074 attendees were vertical market end-users, while 22% were from IT channel, with the remaining 50% being AV channel.
This mix of attendees is a key component driving the growth of BJ IFC. With the expanding role of enabling technologies like AI and IoT in the delivery of smart AV services, the IT channel is playing an increasingly crucial role in the go-to-market strategies of our exhibitors. Many of these attendees who have identified themselves as "IT channel" are actually playing in the AI, robotics and IoT sectors, and the engagement of these players in the AV industry will be very instrumental in preparing BJ IFC for a future-ready role.
C – Next semptember a new show in Chengdu will be launched, for what reasons should comanies consider exhibiting in this new show?
RT – Chengdu InfoComm China was launched to provide AV manufacturers with a once-in-a-lifetime opportunity to stake their claim to the fast-growing markets of Western China, which cannot be adequately addressed by BJ IFC due to the distance between Beijing and Western China. Western China is playing a central role in the development of the One Belt, One Road (OBOR) Initiative, which has already seen more than 350 of the Fortune 500 companies setting up companies in Chengdu and Chongqing. 4,263 infrastructure development projects have already drawn upon more than US$1 trillion of funding from the OBOR funds, and the Chinese government is focused on developing the cities in Western China so that they are ready to be a bridge to OBOR countries, allowing businesses to access an estimated US$21 trillion GDP and 4.4 billion people spread across 65 countries. Already, more than 75% of available booth space at CD IFC have been taken up, demonstrating the importance of this market to AV players in China.
www.infocomm-china.com
This post is also available in: Italian
More from References
---
7
The range of Christie's RGB laser projectors is expanding with the arrival of the new 50.000 lumen Mirage 4K model The …