276
The world of video conferencing cannot, of course, overlook the "video" side: the PTZ cameras from Dutch brand Avonic, sold in Italy by Exhibo, offer many interesting features both on the level of image quality and on the level of handling, control and presets
Video conferencing is an art. Does this statement seem exaggerated? Perhaps it is a bit provocative, but it is not very far from the truth, since the realization of a good video conference cannot exclude the (competent) use of suitable, well-designed and well-built instruments. On a level of both quality and of control and management, the images of a video conference must be well-calibrated and accurate, so that they don't fall (with all due respect) to the level of recordings made with simple webcams.
The Dutch brand Avonic offers video products that go right in this direction: offering an elevated qualitative level and high controllability, for applications such as video recording in meeting rooms, video conferencing installations, live events, places of worship, governmental buildings, educational structures and broadcast studios.
For a brief overview of Avonic cameras, we'll start with the CM60 series: three PTZ models for fixed installations that can be remotely controlled for all movements: panning, focus and zoom. All three models work in Full HD (1080p 60 fps) and are equipped with a 1/2.86" Panasonic CMOS sensor and an f4.42/88.5 mm Tamron lens (20x optical zoom, 16x digital). The CM-60-IP and CM60-IPU models can also stream H265/264, 3G-SDI, HDMI 1.3 and CVBS.
The CM55 series also consists of three Full HD models: 1080p@60Hz USB 3.0 (model CM55-VCU), 1080p@30Hz USB 2.0 (model CM55-VCUC) and 1080p@30Hz on IP (model CM55-VCT). These cameras are especially characterized by reliability, both with H.32 hardware and with software such as Skype for Business. Furthermore, the CM55 series also positions itself as a complete video conferencing system that can be directly used on conference tables, with external audio and video inputs for sharing multimedia presentations.
But, in our opinion, the real standout is the CM-CON100 controller.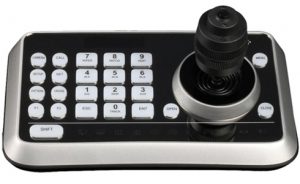 Avonic cameras each feature an impressive 255 presets that can be selected and recalled, so that it is unnecessary to "invent" a control framework each time: once the desired and most used presets are chosen, controlling the cameras becomes very simple. The controller (based on VISCA and PELCO D/P protocols) can manage up to 255 cameras through RS232 or RS485 connection. With this, it is possible to save and recall the presets or directly control all the cameras' parameters. CM-CON100 also allows for the management of cameras from other brands, as long as they support VISCA or PELCO protocols. The possibilities, with 255 controlled cameras (each of which can be "equipped" with 255 presets), are boundless. Finally, a certain simplicity of use doesn't hurt, either: the control panel is small, it weighs about half a kilo, it is based on a joystick for movement on four axes (Pan, Tilt, Zoom and Focus) and features three movement speeds (high, medium and slow). The catalog of the Dutch brand also includes active optical HDMI 2.0 cables and brackets that are suitable for mounting the cameras on the ceiling or wall. And video conferencing is served!
www.exhibo.it
www.avonic.eu
This post is also available in: Italian