37
With its decades of experience in LED wall technologies, Audio Effetti always offers new solutions for creative configurations of screens and displays: let's see the latest proposal, MC Series by Yes Tech.
The Yes Tech brand is mainly known for its innovativeness, with products that often open new paths, offering possibilities that were not even considered until then. The merits of Yes Tech's rental product line as well as the experience gained in over ten years of leadership in this sector converge in the new MC Series. The result is a series of extremely multifunctional products dedicated to installation, however, both as regards standard panels and those with more original and creative shapes, especially suitable for commercial/advertising applications, in difficult environments, with customized shapes and non-standard volumes.
The series is based on one of the most famous Yes Tech patents: nanotechnological polymer technology, which allows you to create a modular cabinet measuring 500x500mm, only 63mm high, very light, sturdy, with shapes and arrangements that are elaborated and designed to combine video performance, with the absence of installation restrictions and with "flame retardant V0 Grade" certification. MC Series differs from the standard modules also for the particular shape of the frame which allows the units to be assembled with relative angles up to 90° on all four sides of the cabinet, offering the possibility of creating a "LED wall cube" of only 50cm on the side.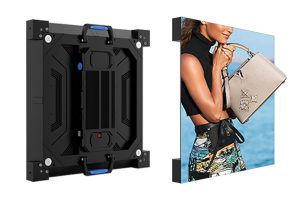 Particular attention was paid to the engineering of all components and the internal structure designed with connectivity to wireless slots or flat cables that can deteriorate or cause malfunctions; maintenance can be carried out both with rear and front access, which allows the panel to be installed even in difficult to reach positions. Furthermore, the MC Series modules are designed with a fan-less dissipation system, but thanks to the internal modularity it's possible, on request, to equip the panel with an additional "extra quiet" type fan for maximum functionality even in the most criticisms. For the assembly of the panels, a special magnetic system is integrated into the frame that allows you to install the tiles safely by simply placing them on a special metal frame, configurable at will, even in customized shapes.
Available in 2.6mm, 2.84mm, 3.9mm and 4.8mm pixel pitches, MC Series uses the proven SMD2020 ensuring stability, is equipped with S-PWM technology with high refresh and high gray scale with 18bit+ architecture and HDR compatibility, in addition to the functionality double backup of correction factors, calibrations and calibrations directly in the internal memory of the module. Yes Tech products are distributed in Italy by Audio Effetti.
www.audioeffetti.com
www.yes-led.com
This post is also available in: Italian