146
Few brands can boast the completeness of the ATEN catalogue in the distribution and management of A/V signals, with single-port IP switches, presentation switchers and content creation products. With some interesting news… especially in this moment of emergency that turned Smart Working into an essential component of our professional life.
Distribution and management and A/V signals have always been the centerpiece of a company like ATEN. The secret? Always have the right product at the right time (or for the right application!) Here are some examples.
For remote access to PCs and servers, here is the CN series, single port KVM over IP switches. Several models are available. We start from the CN8000A model, which provides 'over-IP' access control to conventional KVM switches, which do not have built-in over-IP functionality, thus allowing operators to monitor and access computers from remote locations using standard web browsers or programs based on Windows and Java. The CN8000A connects to the LAN or WAN Intranet simply by using a standard Cat 5e/6 cable and is connected to a local KVM switch or server via a dedicated KVM cable. ATEN CN8000A uses standard TCP/IP protocols for communications and allows access to the connected server or KVM switch from any online computer, regardless of where it is located.
Another model in this series is the CN8600 DVI KVM over IP, an inexpensive over-IP device that allows remote access of digital video, audio and virtual media through the remote control of a PC or workstation. CN8600 enables over IP functionality by connecting the compatible ATV DVI KVM switch and/or the LCD console, such as CS1768 (8-port USB DVI KVM switch) or CL6700 (DVI LCD console). This switch does not require an additional monitor, keyboard or mouse: simply use the LUC port to connect a laptop and access any computer connected to the switch. The Virtual Media function also allows the user to perform diagnostic tests, file transfers or apply updates and patches to the operating system.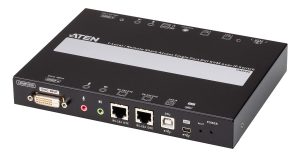 The novelty in the CN series is represented by the DVI KVM over IP switch CN9600, upgrade based on previous models, characterised by a more compact design and an FPGA graphics processor, which offers better image quality, while satisfying at the same time RS-232 DTE/DCE standards for serial control. This model is also equipped with the Virtual Media function and, to guarantee uninterrupted connectivity, with dual LAN and dual power functionality. CN9600 also supports microphone and speakers on the local and remote console.
Collaborative Meetings
Another fundamental application well represented in the ATEN catalogue is the sharing of content in Corporate area, for video conferences also with remote participants. Here are the presentation switches with Seamless functionality: the reference series is called VP. The VP2730 is a multi-in-one switch that integrates video matrix switches with scaler, streaming, audio mixer, HDBaseT extender and analogue-to-digital converter in a single compact device, which has seven multi-format inputs and two high definition HDMI outputs and an HDBaseT output. VP2730 is designed to facilitate collaboration between local and remote participants in large meetings, classrooms or corporate environments: the moderator can share video content on up to five remote sites, and the remote participants can also wirelessly stream their contents. The moderator can monitor and switch from one source to another in any variation of full screen, double view, three view, quadruple or PiP modes, with up to six sources displayed simultaneously on one screen.
The latest novelty in this area is called VP2120 Seamless Presentation Switch, and integrates video matrix switches, AV streaming, audio mixing and collaborative functions. With one HDMI input and two outputs, as well as four bidirectional streaming channels, VP2120 improves BYOD collaboration for more efficient meetings even in shared spaces. VP2120 is designed to allow meeting participants to work wirelessly from laptops and smartphones: simply access and start sharing the presentation content from the Web GUI or from the ATEN Video Presentation Control app, which can be installed on any Apple or Android mobile device. VP2120 connects to the existing network infrastructure, ensuring the necessary level of corporate protection. Accesses can be controlled by randomly generated local codes to ensure that only related people have access to the meeting and shared data during its conduct.
Live Streaming
Lastly, there are also 'broadcast-oriented' products, among which the novelty is represented by UC9020 StreamLIVE HD, live production all-in-one studio with broadcast quality. With UC9020 StreamLIVE HD it's possible to create professional-level multi-camera productions, with a plug-and-play product which does not require a computer, monitor or complicated software settings.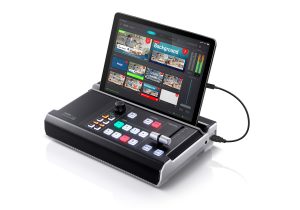 UC9020 carries out all the necessary supply chain: shooting, streaming transmission and switching between two Full HD video inputs. In short, the production airs immediately! And for any post-production work, ATEN OnAir app allows you to transform a simple iPad into a personal video editing suite, with the ability to combine, crop and resize videos to create PnP layouts, add overlay images, logos or writings, and preset up to eight scenes with an intuitive touchscreen interface and a custom editor.
This post is also available in: Italian